Shaka Smart's coaching lessons bearing fruit
5/11/2018, 9:15 p.m.
The fruit never falls far from the tree.
Evidence of Coach Shaka Smart's powerful tenure as the head coach at Virginia Commonwealth University continues sprouting.
Six of Coach Smart's former VCU assistants now have head jobs with NCAA Division I schools.
The newest to sign coaching contracts are Mike Morrell at the University of North Carolina-Asheville, Jamion Christian at Siena College in Albany County, N.Y., and Jeremy Ballard at Florida International University in Miami.
Coach Smart's "disciples" previously on coaching duty are Mike Rhoades at VCU, Mike Jones at Radford and Will Wade at Louisiana State University.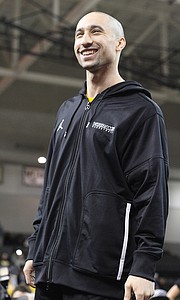 None had been Division I head coaches until hooking up with Coach Smart in Richmond.
In what was his first head coaching gig, Coach Smart guided the Rams to an overall 163-56 record between 2009 and 2015, "wreaking havoc" with relentless full-court pressure defense and 3-point shooting.
Highlights were winning the 2010 CBI and reaching the 2011 NCAA Final Four. With five straight NCAA bids under his belt, Coach Smart left VCU for the University of Texas following the 2015 campaign.
The Shaka Smart coaching tree:
Mike Rhoades, 45: Coached under Smart 2009-2014; left to be head coach at Rice University 2014-2017. Returned as VCU head coach last season, posting an 18-15 mark.
Will Wade, 35: Served under Smart 2009-2013; became head coach at University of Tennessee-Chattanooga 2013-2015; was VCU head coach 2015-2017, when he left to be LSU head coach last season, posting a 18-15 record.
Mike Jones, 53: Was on Smart's staff 2009-2011; left to become head coach at Radford University, where he is 116-116 overall. Jones' Highlanders were 23-13 this past season in reaching the NCAAs.
Jamion Christian, 36: Served under Smart 2011-2012; left to become head coach at Mount St. Mary's University 2012-2018, posting a 101-95 mark with two NCAA bids; on May 2, he became head coach at Siena College.
Mike Morrell, 35: Was an assistant under Smart 2011-2015 at VCU and then 2015-2018 at Texas; last month, he became head coach at UNC-Asheville.
Jeremy Ballard, 41: Served under Smart 2012-2015; returned to VCU to serve last season under Rhoades, following stints at Pittsburgh and Illinois State; recently became head coach at Florida International University.
Now 41, Coach Smart was 32 when he was named VCU's head coach, succeeding Anthony Grant.
There's plenty of time for his coaching tree to continue expansion. Other former Smart aides are now serving as Division I assistants. Former Rams guard Darius Theus is now on Smart's Texas staff as director of player development.