Virginian Noah Lyles focused on a 2020 Olympic win
5/11/2018, 9:45 p.m.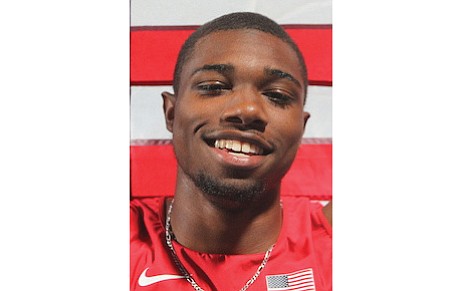 A former Virginian may be the 200-meter dash favorite for the 2020 Summer Olympics in Tokyo.
Noah Lyles, a 20-year-old former standout at T.C. Williams High School in Alexandria, is making noise on the professional IAAF Diamond League circuit.
Lyles opened the Diamond schedule winning the 200 against a stacked field in Doha, Qatar, on Friday, May 4.
His sizzling 19.83-second clocking defeated the likes of Ramil Gulivey, the 2017 World Champion; Jemeer Richards, silver medalist at the World Games; and Andre De Grasse, bronze medalist at the 2016 Olympics.
As a benchmark, Lyles' time is just a sliver off Usain Bolt's 19.78 winning time at the 2016 Olympics in Rio de Janeiro.
"I'm not going to say times because my goal is just to dominate," Lyles told the press. "But I tell you what. I'm not going to go any slower."
Following a brilliant career at T.C. Williams, both Noah and his brother, Josephus Lyles, signed scholarship offers from the University of Florida. Neither ran for the Gators, however, preferring to ink pro contracts with Adidas.
Noah Lyles just missed qualifying for the 2016 Olympics, finishing fourth in the 200-meter trials. Last year, he won twice on the Diamond tour — at Shanghai and Brussels — but missed much of the international schedule with an injury.
"It's exactly what I planned to happen," he said of his victory in Doha. He said he's not "messing around this season."
From Qatar, the Diamond tour moves to Shanghai on Saturday, May 12; Eugene, Ore., May 26; and Rome, May 31. It concludes in Brussels on Aug. 31.
Lyles is arguably the fastest Virginian ever. As a T.C. Williams High senior in 2016, he won the Class 6A Northern Region 100 meters in 10.14 seconds and the 200 meters in 20.23.