'Black Panther' star returns to alma mater to inspire Howard students at graduation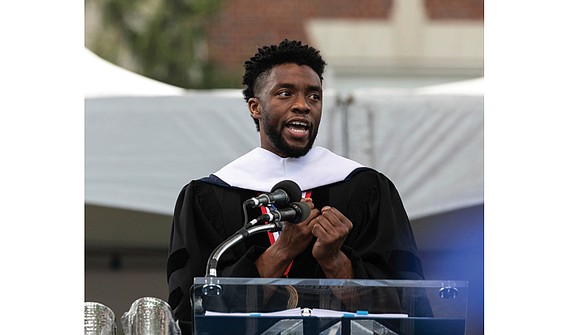 Actor Chadwick Boseman, a Howard University alumnus who starred in the blockbuster film, "Black Panther," lauded Howard University students for their recent successful campus protests, saying their efforts to spark change will help them as they enter the workforce.
"Everything that you fought for was not for yourself. It was for those who came after you," he told an audience of 8,000 Saturday during an outdoor commencement ceremony in the Upper Quad on the main campus in Washington.
The Class of 2018 is Howard University's 150th graduating class. 
"Students, your protests are also promising because many of you will leave Howard and enter systems and institutions that have a history of discrimination and marginalization. The fact that you have struggled with this university that you love is a sign that you can use your education to improve the world you are entering," he said.
"I was on a roll when I entered the system of entertainment, theater, television and film," he continued. "I stand here today knowing my Howard University education prepared me to play Jackie Robinson, James Brown, Thurgood Marshall and T'Challa."
Howard students staged a nine-day takeover of the university administration building in late March and early April, protesting the misuse of funds meant for low-income students. Ultimately, the university board agreed to several demands, including freezing undergraduate tuition, re-examining on-campus housing policies and setting up a task force to address sexual assault and harassment issues. Six employees were fired in connection with problems with university funds.
Mr. Boseman also applauded the administration's willingness to make changes.
He also talked about being fired from a soap opera after questioning the way his character, a gang member, was written. He said he felt "conflicted" because the role, which he previously described as stereotypical, was "wrapped up in assumptions about us as black folk."
While Mr. Boseman didn't specify the soap opera, published reports indicate it was on "All My Children," in which he briefly played gang member Reggie Porter Montgomery. The role later was played by Michael B. Jordan, who starred with Mr. Boseman in "Black Panther."
"What do you do when the principles that were instilled at you at Howard close the door?" he asked in his commencement address. "Sometimes you need to get knocked down before you realize what you're really fighting against."
Mr. Boseman encouraged graduates to not only exceed in their next steps, but also strive to achieve their life's purpose.
"When you have reached the Hilltop and you are deciding on next steps, you would rather find purpose than a career. Purpose is an essential element of you that crosses disciplines," he said. 
He called Howard a "magical place, where the dynamics of positive and negative seem to exist in extremes. … Almost anything can happen here."
"I remember walking across this yard when Muhammad Ali was walking toward me with his hands raised in a quintessential guard. I was game to play along with him," Mr. Boseman said. "What an honor to be challenged by the G.O.A.T. I walked away floating like a butterfly…walked away light and ready to take on the world."