Michael Gilmore returning to the VCU Rams
5/19/2018, 2:20 p.m.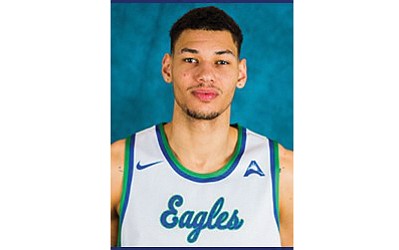 What comes around goes around — or something like that. Michael Gilmore started his college basketball career at Virginia Commonwealth University. And now it appears he'll conclude it wearing the Rams' black and gold.
The Jacksonville, Fla., native and nephew of NBA legend Artis Gilmore is returning to VCU after spending the past two seasons at Florida schools, one as a redshirt.
Gilmore, a 6-foot-10 forward known for his 3-point range, averaged seven points and six rebounds this past season for Florida Gulf Coast University in Fort Myers, Fla., logging about 19 minutes per game.
In what will be his third college switch, Gilmore is immediately eligible at VCU as a graduate transfer.
Gilmore played during the 2014-15 and 2015-16 seasons at VCU before transferring, first to the University of Miami, where he was in residence one semester but never played, and then to Florida Gulf Coast.
He sat out the fall of 2016 as a redshirt while at Miami, and the fall term of 2017-18 at Florida Gulf Coast.
In leaving Florida Gulf Coast, Gilmore first announced he was becoming eligible for the NBA draft. But he never hired an agent, allowing him to return to the college ranks.
VCU cleared a scholarship opening for Gilmore when freshman Lewis Djonkman announced he was transferring.
The 6-foot-9 Djonkman from Springfield played in 20 games as a freshman, but only for a total of 69 minutes.
Earlier, freshman guard Tyler Maye announced he was leaving VCU.
Gilmore isn't the first Ram to leave and then come back.
Johnnie Story played the 2000-01 season at VCU, earning All-Colonial Athletic Association freshman honors. He then transferred to Northern Idaho Junior College for the 2001-02 and 2002-03 seasons before returning to VCU in 2003-04. However, the Hampton native dropped off the team in the fall of 2003 before playing.