19-year-old Soto called up to play forA royal wedding to remember
Prince Harry and Meghan Markle wed in ceremony marked by new traditions, global audience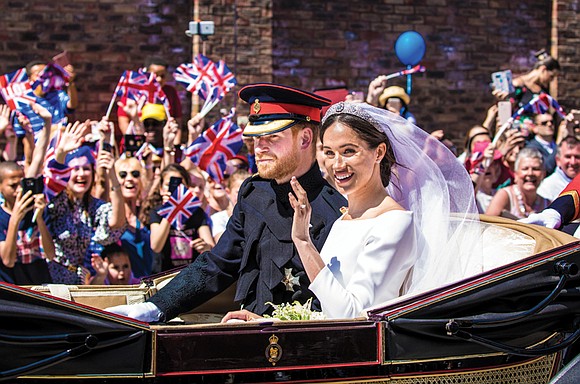 WINDSOR, England
Prince Harry and his American actress bride Meghan Markle married on Saturday in a dazzling ceremony that blended ancient English ritual with African-American culture, infusing the 1,000-year-old British monarchy with a blast of blackness and modernity.
It was a wedding to remember — and to tweet about — as celebrity guests and royals filled the medieval St. George's Chapel at Windsor Castle that 39 English kings and queens have called home since 1066.
With regal pageantry as abundant as the garlands of flowers, Prince Harry and Ms. Markle exchanged vows in a ceremony watched by a global television audience of millions.
Alighting from a vintage Rolls-Royce Phantom IV at the chapel, Ms. Markle was stunning in an ivory silk, A-line Givenchy gown designed by Clare Waight Keller with a bateau neckline and three-quarter sleeves, diamond tiara and 16 ½-foot silk tulle veil hand-embroidered with flora representing the 53 countries of the British Commonwealth.
Two pageboys, the 7-year-old twin sons of her best friend Jessica Mulroney and Benedict Mulroney, the son of former Canadian Prime Minister Brian Mulroney, followed Ms. Markle, carrying her veil up the steps of St. George's Chapel.
She entered the chapel unescorted, and was met halfway down the aisle by Prince Harry's father, Prince Charles, who walked her to the altar before she and the groom exchanged vows and were proclaimed husband and wife.
Ms. Markle's father, Thomas Markle, 73, a former lighting director for TV soaps and sitcoms who lives reclusively in Rosarito, Mexico, pulled out of the ceremony earlier in the week, telling TMZ that he had heart surgery on May 16.
The union of Prince Harry, 33, a former royal wild child and sixth in line to the British throne, and 36-year-old Ms. Markle, a divorcee whose mother is African-American and father is white, was like no other the royal family has seen before.
"We can break the barriers down, it can be done," said 40-year-old black Briton Yvonne Emanuel, one of the 100,000-strong crowd that thronged Windsor's streets.
The ceremony was typical of royal weddings in many ways. The service was conducted by the Dean of Windsor, while Justin Welby, the Archbishop of Canterbury, declared the couple man and wife, beneath the banners of the knights of the Order of the Garter, the world's oldest chivalric group dating back to 1348.
But throughout the wedding, there were significant breaks with tradition, in particular when Bishop Michael Bruce Curry, head of the Episcopal Church in the United States, delivered a passionate sermon that was a far cry from the sober tones of the Church of England.
"There's power in love," Bishop Curry boomed at a congregation that included Queen Elizabeth, senior royals and celebrities ranging from Oprah Winfrey to tennis star Serena Williams and husband Alexis Ohanian, George and Amal Clooney and soccer star David Beckham.
"Do not underestimate it. Anyone who has ever fallen in love knows what I mean," he said in an energetic, 16-minute address that quoted Dr. Martin Luther King Jr., cited spirituals, medieval poetry, the Bible and experiences of enslaved people in the American South.