19-year-old Soto called up to play forA royal wedding to remember
Prince Harry and Meghan Markle wed in ceremony marked by new traditions, global audience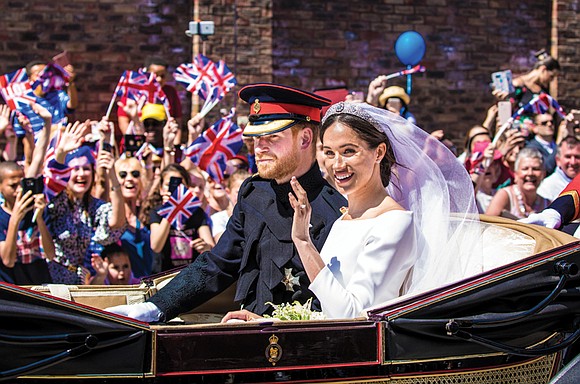 He said that love was not just for young couples, but part of God's plan with the power to change the world.
"We will let justice roll down like a mighty stream and righteousness like an ever-flowing brook," he said. "When love is the way, poverty will become history. …We would treat one another as family."
The Chicago native and former bishop of North Carolina grasped the lecturn at times, and at other times waved his arms to punctuate points. His sermon was the most tweeted moment of the royal wedding.
"It was a moment for African-Americans," said Karen Long, who came from Houston, Texas, with her sister and a group of friends, all dressed as bridesmaids, to listen to the wedding from loudspeakers placed around Windsor.
"The idea that Harry allowed that and acknowledged it, it was the perfect blend between her culture and the royal culture."
While members of the royal family, including Prince Harry's brother, Prince William, could be seen smiling during the sermon, Ms. Markle's mother, Doria Ragland, 61, nodded several times as Bishop Curry spoke. Ms. Ragland also shed a few tears during the ceremony.
As well as traditional Church of England anthems and delicate English choral music, the ceremony also featured a gospel choir, The Kingdom Choir directed by Karen Gibson, singing "Stand by Me," the 1960s hit by American singer Ben E. King.
Prince Harry reportedly suggested a gospel element be added.
Cellist Sheku Kanneh-Mason of Nottingham, a 19-year-old winner of a BBC competition, played three selections during the ceremony, captivating the congregation and television viewers around the world.
In further breaks with tradition, Ms. Markle did not vow to obey her husband. The couple also exchanged rings, meaning that, unlike other senior male royals such as his older brother Prince William, Prince Harry will wear a wedding band.
At the ceremony's end, the couple, now officially known as the Duke and Duchess of Sussex — titles bestowed by Queen Elizabeth — kissed on the steps of the chapel, before a delighted sea of well-wishers. The couple got into a horse-drawn carriage and toured Windsor, waving to vast crowds of people, some of whom had camped for days to witness the spectacular show of British pomp and pageantry.
The enthusiasm from the crowds waving and cheering was overwhelming. Thousands more celebrated at street parties held across Britain and around the globe.
Ishea Brown held a "Black A.F. Royal Wedding Brunch" in Seattle attended by more than a dozen of her friends. Not a longtime devotee of all things royal, Ms. Brown said he was not particularly interested in the House of Windsor until November, when the wedding was announced.
"These are things that growing up I never would have thought we would see," said Ms. Brown, 33, referring to a woman with African-American heritage becoming a member of the royal family. "I hope that women, but particularly black women, are able to see themselves in her and her mother, and know that there are no spaces that are not meant for us."