Bamba dominates NBA Draft Combine
5/27/2018, 12:10 a.m.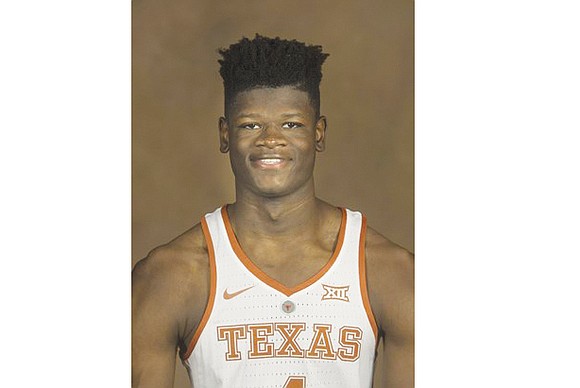 Mohamed Bamba
Mohamed Bamba has set two NBA records, of sorts, without even breaking a sweat.
The former University of Texas star has the widest wingspan (7 feet 10 inches) and standing reach (9 feet 9 inches) in NBA Draft Combine history.
Measurements were taken last week at the annual Combine in Chicago, a precursor to the NBA Draft on June 21 in Brooklyn.
Harlem native Bamba eclipsed old marks of 7 feet 8½ inches (wingspan) and 9 feet 7 inches (standing reach) set by Frenchman Rudy Gobert in 2013.
Bamba, whose height was measured at 6-foot-11¼ without shoes, played this past season as a freshman under Coach Shaka Smart in Austin before opting for the NBA.
In a Dec. 5 game at VCU's Siegel Center, Bamba had 13 points, 13 rebounds and four blocked shots in the Longhorns' 71-67 win over the Rams. This season, he averaged 13 points and 11 rebounds while leading the Big 12 with 3.7 blocked shots per game.
Bamba figures to be a lottery pick in the upcoming draft and may go as high as among the top five selections.
The second widest wingspan measured in Chicago was the 7 feet 7 inches of former Kansas center Udoka Azubuike (height 7 feet ¼ inch without shoes).
In 2010, VCU's Larry Sanders was measured at 6-foot-9¼ in height with a 7-foot-5 ¾ inches wingspan, among the widest recorded at that time.