A wrinkle in time: Deceased Montford Point Marine awarded Congressional Gold Medal
By Vanessa Remmers | 11/1/2018, 6 a.m.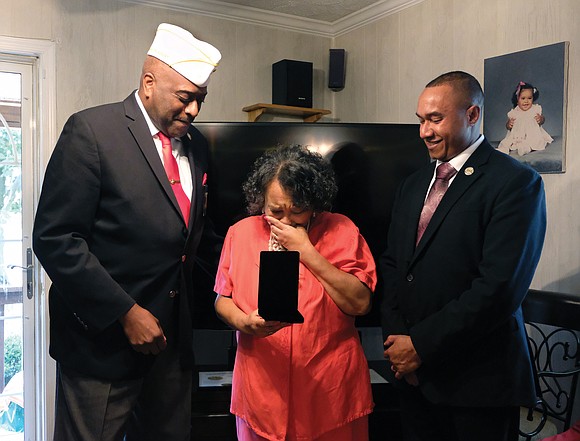 Towanda C. Lee's father left many stories untold.
He was a man of few words, she said. And when she was a child, she simply ignored his old war tales.
It wasn't until after he died in January 1991 that Ms. Lee discovered documents stowed in the basement that shed light on his hidden history.
Her father, Herman Russell Charity Sr., a lifelong Richmond resident, was among a pioneering group of African-American U.S. Marine Corps members known as the Montford Point Marines, and he was eligible to receive the highest civilian honor bestowed by Congress.
Last Sunday, Ms. Lee dissolved into tears when retired Master Sgt. Forest E. Spencer Jr., national president of the Montford Point Marine Association, arrived at her Mechanicsville home and cracked open a velvet blue box to reveal a Congressional Gold Medal being awarded posthumously to Mr. Charity.
Ms. Lee and her brother, Damon R. Charity, also were presented a certificate of recognition from the association, a nonprofit military veterans organization begun to memorialize the historic contributions of the first African-Americans to serve in the Marine Corps.
"He would have been so proud," Ms. Lee whispered of her dad as she stared at the medal and wiped away tears.
She then looked up at the relatives, Marine Corps officials and reporters gathered in her living room.

"My father would have been so proud of this. He wouldn't have said anything, but he would have been so proud," Ms. Lee said.
"This is unbelievable. I just want to thank you all so much for … bestowing this honor on our father and making sure that everyone knows about the Montford Point Marines. Just like the Tuskegee Airmen, the Montford Point Marines are right there with them."
In November 2011, President Obama signed legislation directing the Congressional Gold Medal be given to all Montford Point Marines, a group of about 20,000 men who were trained between 1942 and 1949 at the segregated camp in Jacksonville, N.C.
In June 1941, under the threat of a major march in Washington by African-Americans protesting being shut out of war jobs with government agencies and contractors, President Franklin D. Roosevelt signed an executive order banning such employment discrimination.
The presidential directive also enabled African-Americans to join the Marine Corps. But the Marine Corps segregated these newly enlisted Marines and sent them to basic training at a facility outside Camp Lejeune in North Carolina known as Camp Montford Point.
Traditionally, Marines were sent to boot camps at Parris Island, S.C. or in San Diego, Calif., association officials said.
These initial African-American Marines were assigned laborious duties to essentially build the new facility, transforming the land from thick pine forest with mosquitoes and snakes into Camp Montford Point, according to the association.
Less than a year after the first African-American recruits reported to Montford Point, Mr. Charity enlisted as a stated 18-year-old. But Ms. Lee and the family would later learn that Mr. Charity falsely made himself older on his enlistment documents so that he could become a Marine.