A wrinkle in time: Deceased Montford Point Marine awarded Congressional Gold Medal
By Vanessa Remmers | 11/1/2018, 6 a.m.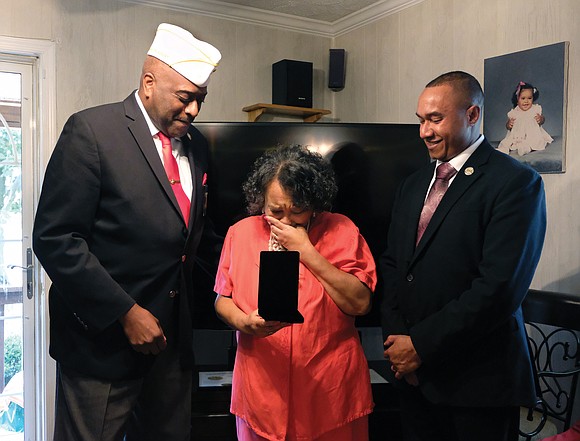 He was trained as an electronic stockman, but served as a munitions worker. He would later serve in the Asia Pacific from December 1943 to December 1945.
Ms. Lee's family photos include one of a young Mr. Charity not long after he joined the Marine Corps in 1943. The family had it retouched in preparation for Sunday's ceremony.
The original photo was signed to Ms. Lee's mother, Edna Henry Charity, who her father affectionately called "Mutt."
"Despite being denied many basic rights, the Montford Point Marines committed to serve our country with selfless patriotism," President Obama wrote in a 2011 letter to all Montford Point Marines in celebration of their congressional recognition. "Choosing to put their lives on the line, these men helped advance civil rights and influenced President Harry Truman's decision to desegregate the Armed Forces in 1948."
Since the legislation's passage, the Montford Point Marine Association has recognized many of these Marines whose stories, association officials said, have largely been buried.
"It's still alarming that Marines past and present, and most Americans today, are not aware of the Montford Point Marines and the importance of their service in the Marine Corps," said Carmen Cole, a retired Marine chief warrant officer and president of the Quantico Chapter #32 of the Montford Point Marine Association, who participated in the ceremony.
"These great warriors … are who we consider barrier-breaking American heroes whose shoulders we stand on, because without them, African-Americans would not have had the opportunity to serve in the Marine Corps."
Muster and payroll records indicate that some African-Americans served in the Marines as far back as the Revolutionary War, but weren't followed by others of their race until June 1942, according to the Montford Point Marine Association.
Officials also noted that the Montford Point Marines were assigned to only two units, neither of which saw combat during World War II. Eventually, the segregated units were disbanded or integrated in with all-white units following President Truman's order ending racial discrimination in the armed services.
However, many of the Montford Point Marines acknowledged their mixed feelings of pride and bitterness as they fought to defend a country that continued to deny basic rights to African-Americans.
Ms. Lee said she would give anything now to hear her father tell his story about being a Montford Point Marine. She said a chance conversation with a Marine at a family reunion led her to ask more about her father's military history.
She said the Marine suggested that her father may have been a Montford Point Marine, something she and her siblings had never heard of, Ms. Lee said. She dug through documents in albums and others tucked away in her basement. They were sent off to Quantico, and officials confirmed her father's status.
She agreed with Master Sgt. Spencer that she now has a duty to spread her father's otherwise hidden story.
"This is not a February story; this is a 365-day story. This is American history," Master Sgt. Spencer said. "The responsibility now is to share this with the community."