Newcomer Abigail Spanberger claims narrow win over GOP incumbent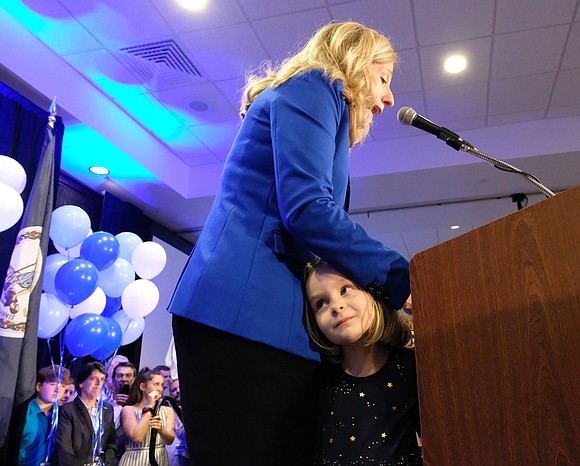 Other new members of Congress from Virginia will include Democrats Elaine Luria, a businesswoman and retired U.S. Navy nuclear engineer, and state Sen. Jennifer Wexton.
Ms. Luria narrowly ousted incumbent Republican Rep. Scott W. Taylor in the 2nd District that includes Virginia Beach, winning about 6,000 more votes than he did.
Rep. Taylor never recovered from a scandal involving staff members who apparently sought to help him by illegally arranging to get an independent candidate on the ballot in a bid to split the Democratic vote. The third candidate ended up being removed after the shenanigans by Taylor staff members became public. Rep. Taylor denied involvement.
In the 10th District that includes Loudoun County, state Sen. Wexton handily defeated incumbent Republican Barbara Comstock by more than 50,000 votes in a race in which opposition or support of President Trump was a key element.
In other races, Virginia's two African-American House members easily won re-election. U.S. Rep. A. Donald McEachin, 4th District, fended off Republican Ryan A. McAdams and Libertarian Pete Wells to earn a second term representing the district that includes Richmond.
And Rep. Robert C. "Bobby" Scott, 3rd District, was unopposed for his 14th term in a district that includes Newport News.
Other Democratic winners included incumbent Reps. Donald S. Beyer Jr., 8th District, and Gerald E. Connolly, 11th District, both in Northern Virginia.
Republican winners in Virginia House races included incumbent Reps. Robert J. "Rob" Wittman, 1st District, and H. Morgan Griffith, 9th Districts, and two newcomers.
In the 5th District, businessman Denver L. Riggleman III won 53 percent of the vote to defeat Democratic challenger Leslie Cockburn to win the vacant seat. And in the 6th District, Ben L. Cline won the vacant seat by beating Democrat Jennifer Lynn Lewis by a 59 percent to 40 percent margin. Both districts were drawn to favor Republicans.