Stan Lee, Marvel Comics writer and creator of the 'Black Panther,' dies at 95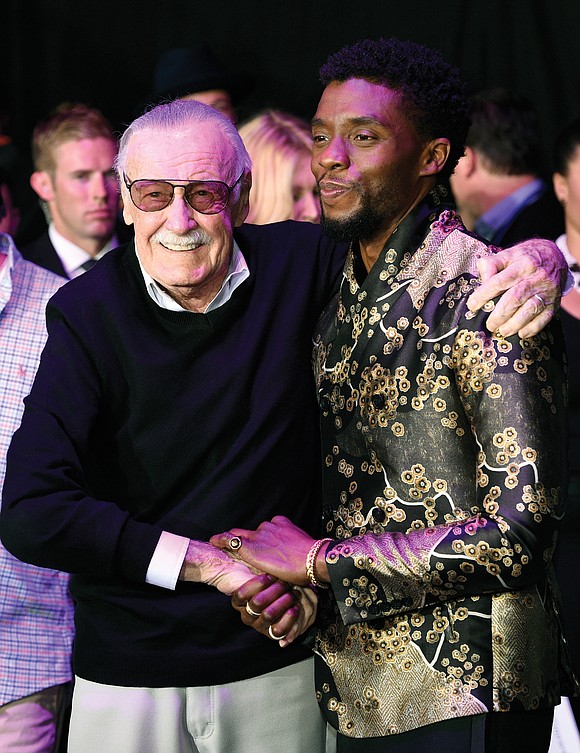 "I think of them as fairy tales for grown-ups," he told The AP in 2006. "We all grew up with giants and ogres and witches. Well, you get a little bit older and you're too old to read fairy tales. But I don't think you ever outgrow your love for those kind of things, things that are bigger than life and magical and very imaginative."
Mr. Lee scripted most of Marvel's superhero comics himself during the 1960s, including the Avengers and the X-Men, two of the most enduring. In 1972, he became Marvel's publisher and editorial director; four years later, 72 million copies of Spider-Man were sold.
Mr. Lee also published several books, including "The Superhero Women" in 1977 and "How to Draw Comics the Marvel Way" the following year, when he was named publisher of the year by the Periodical and Book Association of America.
Stanley Martin Lieber was born Dec. 28, 1922, in New York. He grew up a fan of "Hardy Boys" books and Errol Flynn movies, and got a job at Timely Comics after graduating from high school.
Within a few months, the editor and art director quit, leaving the 17-year-old Mr. Lee with creative control over the company, which grew and was renamed Atlas Comics and, finally, Marvel. He, too, changed his name, thinking Lee would be used for "silly little comics" and his real name would be reserved for novels.
He moved to Los Angeles in 1981 to head Marvel Productions, an animation studio that was later purchased, along with Marvel Comics, for $50 million by New World Entertainment.
As sales of comics declined, Marvel was forced into bankruptcy proceedings that meant it had to void a lifetime contract prohibiting Mr. Lee from working for anyone else. Mr. Lee later sued Marvel for $10 million, saying the company cheated him out of millions in profits from movies based on his characters.
In 2000, Mr. Lee agreed to write stories for DC Comics, reinventing Superman, Batman, Wonder Woman and other signature characters for Marvel's one-time rival. The dapper, friendly comic book genius continued to work into his 90s on numerous projects, including comics, films and DVDs.
Mr. Lee is survived by his daughter, Joanie, and a younger brother who also worked in comics, Larry Lieber.