Teen's idea for Kindness Week comes to fruition in Richmond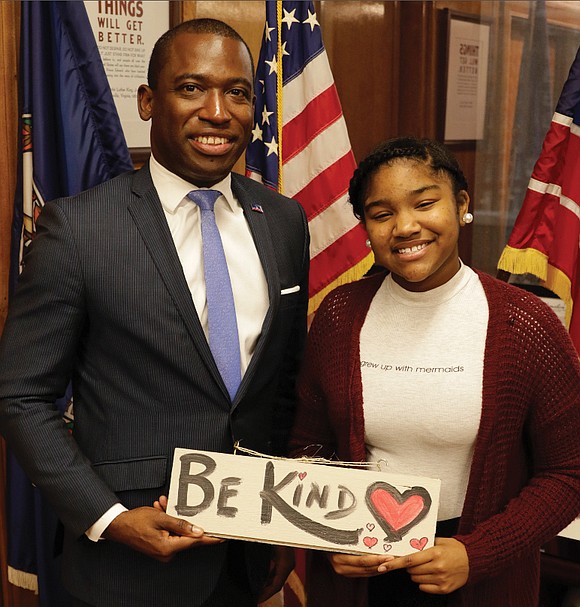 This is a special week for Binford Middle School student Jalia Hardy.
The 13-year-old won the statewide "If I Were Mayor" essay contest during the spring sponsored by the Virginia Municipal League that challenged seventh-graders to describe what they would do if they were mayor of their hometown.
In addition to her focus on the city's economy and its young people, Jalia wrote that she would start an annual "Kindness Week," a time when "people just give compliments and help each other, even if they don't know the person they are helping."
Thanks to a proclamation by Richmond Mayor Levar M. Stoney, Jalia's idea has become a reality.
Mayor Stoney designated Nov. 12 through 16 as "Kindness Week" in Richmond.
"I was so shocked. I didn't know it would become official," Jalia said Monday in an Free Press interview. She was featured in early April as the Free Press Personality for her winning state essay.
Jalia said she didn't think her essay and idea were a big deal until she received a call from Richmond City Hall and met with Mayor Stoney in July. He liked the concept, she said, and wanted to establish Kindness Week.
"I was so excited," Jalia said.
"Kindness Week is just one helpful reminder of how we should treat each other 365 days a year," Mayor Stoney stated in an email.
"I hope residents take advantage of this week to recognize how much better we are, and how much more we can accomplish, when we work together as a community."
He encouraged Richmonders to show kindness to one another.
Jalia started Kindness Week at Binford by giving greeting cards to teachers, administrators, janitors, bus drivers and her school's security officer. The security officer was so excited that she placed the card on a bulletin board next to her son's picture for everyone to see, Jalia said.
"I didn't know (adults) would be so happy about the kind gesture," she marveled.

The teen's mother, Lisa Hardy, jumped-started Kindness Week at Overby-Sheppard Elementary School where she teaches fifth grade by passing out thank you cards to her co-workers.
"When we practice addition and multiplication, not subtraction and division, there are few limits to what we can achieve as a city," Mayor Stoney said.
"Our partnership with Richmond Public Schools is one way in which we make progress to the benefit of our children. And students like Jalia Hardy are great examples of this spirit of cooperation, collaboration and kindness."
In the spirit of the week, Jalia was the recipient of another kind gesture when she and Mayor Stoney met again in late October. The mayor gave her a sign handmade by Richmond resident Gini Bonnell that bears the simple message, "Be Kind."
Ms. Bonnell has given away more than 1,200 of the signs across the city.