Undefeated, unforgettable
Maggie Walker 1975 football team opted to play annual Armstrong-Walker Classic at Thanksgiving rather than VHSL playoffs
Fred Jeter | 11/21/2018, 6 a.m.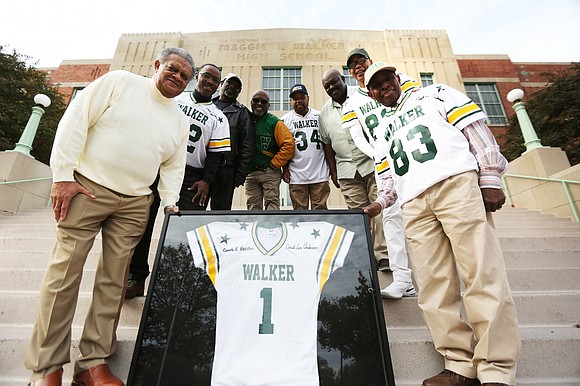 Dance set for Nov. 24 to commemorate Armstrong-Walker Classic
Maggie L. Walker High School alumnus Carl Baugh, who played football for the Green Dragons, is organizing a dance to celebrate the old Armstrong-Walker Classic.
The event will be held 9 p.m. to 1 a.m. Saturday, Nov. 24, on Thanksgiving weekend, just like the former rivalry football game.
It will be held at Holiday Inn Richmond South-City Gateway, 4303 Commerce Road.
Music by DJ Stormin' Norman will be featured, along with memorabilia displays from Maggie Walker and Armstrong high schools and the football classic.
Details: Mr. Baugh, (804) 615-5693.
The 1975 Maggie L. Walker High School football team was undefeated and unforgettable.
Coach Lou Anderson's Green Dragons went 10-0 while outscoring the opposition a combined 231-47.
What has come to be known among team members and alumni as "Our Perfect Season" ended with a rousing 33-0 victory over rival Armstrong High School at City Stadium the Saturday after Thanksgiving.
Newspaper accounts listed attendance for the 1975 Armstrong-Walker Classic, as it was known, as anywhere from 30,000 to 35,000 people. Photos confirm a spillover crowd, with fans in every seat and space where there was room to sit or stand.
But there was something missing from this pretty picture. And that's what makes the fall of 1975 unique: To play the game in late November, both Walker and Armstrong forfeited the option of participating in Virginia High School League playoffs.
As the 1975 Capital District champions, Walker would have advanced to the Central Region semifinals — and perhaps beyond.
"We took a vote, and the vote was to play the Armstrong-Walker Classic rather than be eligible for VHSL," recalled George Bowser, a coach and administrator at Maggie Walker at the time.
"We went to players first, and they said keep the Classic. Everyone agreed on it," he said.
To be eligible for the VHSL playoffs, all regular season games had to be completed by Nov. 1. Moving the Classic to an earlier date to comply was not a consideration.
Walker and Armstrong, the city's historically African-American high schools, had played in the Classic since 1939 when Maggie Walker opened. The Classic was a bold-letter event on many social calendars. Alumni of both schools who lived out of town made plans to return to Richmond for the Classic. Having it any other date than Thanksgiving weekend would not work.
The Classic was far more than two football teams banging pads. It was a double homecoming of sorts, with the marching bands from both schools performing, streams of snazzy cars circling the field and homecoming queens crowned for each school. It was a gala affair, to say the least, and a money-maker.
"I'll tell you this — both schools made enough money off that game to fund every other sport for the entire year," Coach Bowser said. "And that was with tickets about $1.50 for adults and 75 cents for students."
Hampton High School went on to win the state Group AAA title in 1975, but the Green Dragons of Maggie L. Walker High School might have had something to say about that outcome had they chosen to go to the VHSL playoffs.