Undefeated, unforgettable
Maggie Walker 1975 football team opted to play annual Armstrong-Walker Classic at Thanksgiving rather than VHSL playoffs
Fred Jeter | 11/21/2018, 6 a.m.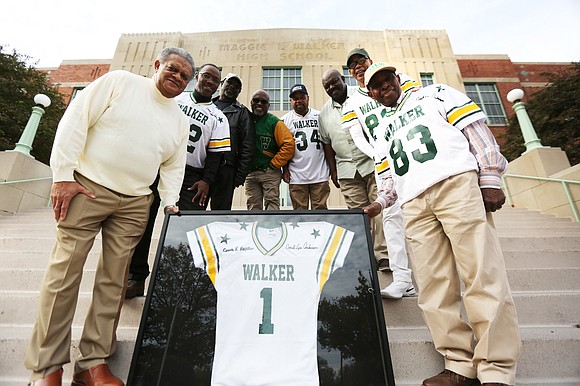 Coach Anderson's staff included Athletic Director Howard Hopkins, Richard McFee, Pierce Callaham and Coach Bowser, the defensive coordinator.
Among Walker's many stellar athletes that year were quarterback Eugene "Boo Boo" Lucas, who went on to play at Tennessee State University, hulking tackle Walter Carter, who continued at Florida State University, and ball carrier Jeff Washington, who went to Virginia Military Institute.
No one was left out.
"Coach (Anderson) made sure all of us had a chance to play in college if we wanted to," recalled wide receiver Pierre Johnson, who played briefly at Virginia Union University.
The "old timers" aren't letting it go.
Johnson and Washington have made a 64-minute video, "Our Perfect Season." Also, the 1975 team members have purchased replica Green Dragon jerseys with their names on the back and their original numbers.
Coach Anderson has been awarded jersey No. 1. His framed jersey will be hung on the third floor of the Maggie L. Walker building along with other memorabilia prior to 1979. The school at Lombardy and Leigh streets is now the Maggie L. Walker Governor's School for Government and International Studies. It has no football program but maintains the nickname Green Dragons.
"Coach Anderson was kind of under pressure that year," Johnson recalled of 1975. "He succeeded a legend, Cannonball Cooper, and that was a hard thing to do. That game against Armstrong, that undefeated season, that kind of put Lou on the map."
The 10 victories, five via shutout, included foru wins over Washington, D.C. schools — H.D. Woodson, Calvin Coolidge, Roosevelt and Western high schools.
Other victories were over the six Richmond high schools. Walker played all of its home games at Hovey Field, except for the Classic.
The Classic continued until 1979, when seven city high schools were merged into three complexes — the Marshall-Walker Cavaliers, the Jefferson-Huguenot-Wythe Trojans and the Armstrong-Kennedy Jaguars. The complexes were dismantled in 1986.
The "old days" when Walker and Armstrong competed in the all-black Virginia Interscholastic League when the high school athletic leagues were segregated began to fade from thought among the younger set.
"It wasn't the same once we joined the VHSL," Coach Bowser said. "Until then, every black kid in town dreamed of playing for Armstrong or Walker.
"By the '70s, the other city schools were also mostly black. The busing in the early 1970s hurt the rivalry, too."
Coach Bowser said most of Walker's students came from the West End. Once busing started, those students went to Huguenot High School.
Older football fans reminisce about the greatness of the 1975 Green Dragons. But there's always that "what if?" What if Walker had gone to the playoffs? Could they have beaten perennial champion Hampton High School?
Someone suggested the Dragons were all dressed up with nowhere to go.
Johnson said, "No way."
"Oh, we had somewhere to go all right," he said, meaning the Classic, "and we were looking good."