Coliseum's success raises new questions about need to replace it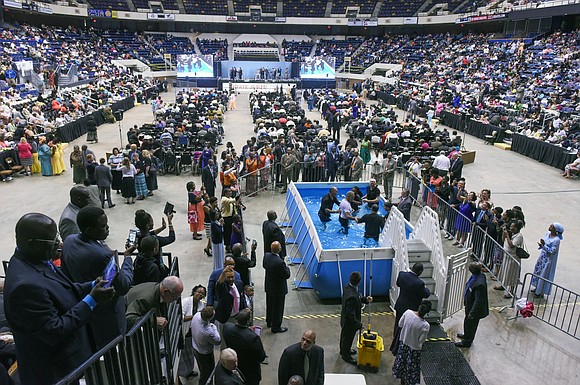 The 13,500-seat Richmond Coliseum has been the busiest arena in Virginia during the past six years, according to a Chicago-based consulting company that was paid $500,000 by the city to review a proposal to replace the facility.
Hunden Strategic Partners found that the 47-year-old arena averaged more events per year than the four other indoor arenas in Virginia combined. It also hosted more events than each of the far larger arenas in Greensboro and Raleigh, N.C.
The findings raise questions as to why a new, larger coliseum is needed, a question advocates have yet to fully address. Indeed, the only public response to date has been that other state capitals have nicer, larger coliseums than Richmond.
According to the study Hunden delivered to the city and its financial consultant on Oct. 31, the Richmond Coliseum hosted 550 events from 2013 to 2018, or an average of 92 concerts, sporting events, conferences and other activities per year.
By comparison, the University of Virginia's 15,200-seat John Paul Jones Arena in Charlottesville, which is described as Richmond's toughest in-state competition for concerts, hosted an average of 10 ticketed events a year in the three-year period from 2015 to 2017, Hunden reported.
Coliseum's last acts
The Richmond Coliseum is going out with a bang.
Before it is shut down at the end of the year as the city mulls a plan to build a replacement, the 13,500-seat arena will host several more big events that show the space is still in demand from promoters and others who want and need the Richmond area's biggest venue.
The schedule includes a visit from Snoop Dogg's Puff Puff Pass tour featuring the hip-hop artist and five other acts on Thursday, Dec. 6; a performance by the Trans-Siberian Orchestra on Wednesday, Dec. 19, and a two-show finale featuring the Harlem Globetrotters on Saturday, Dec. 29.
The consultants also reported that, during the same period, the 13,800-seat Hampton Coliseum averaged only 3.5 ticketed events a year; the 13,000-seat Norfolk Scope averaged six ticketed events a year; and Roanoke's 10,500-seat Berglund Center averaged 3.5 ticketed events a year.
According to Hunden, Richmond's indoor arena also was busier than Virginia Beach's outdoor amphitheatre, which hosted an average of 25.5 events per year during the period from 2015 to 2017.
Indeed, the 23,000-seat Greensboro, N.C., Coliseum Complex and the 19,722-seat Raleigh, N.C., PNC Arena had less activity, Hunden reported. Greensboro hosted an average of 13 ticketed events during the 2015-2017 period, while Raleigh hosted an average of eight ticketed events a year during that period.
According to Hunden, even Washington's 20,500-seat Capital One Arena, home to the Washington Capitals pro hockey team, the Washington Wizards pro basketball team and Georgetown University's men's basketball team, averaged only 35 ticketed events a year during the same timeframe.
The study essentially belies the claims of advocates for a new facility, who suggest that the Richmond Coliseum is a failed "white elephant' that costs city taxpayers too much — about $1.5 million a year for operations and debt repayment — and delivers too little.