First Lady Melania Trump lays wreath at slave castle in Ghana
Reuters | 10/4/2018, 6 a.m.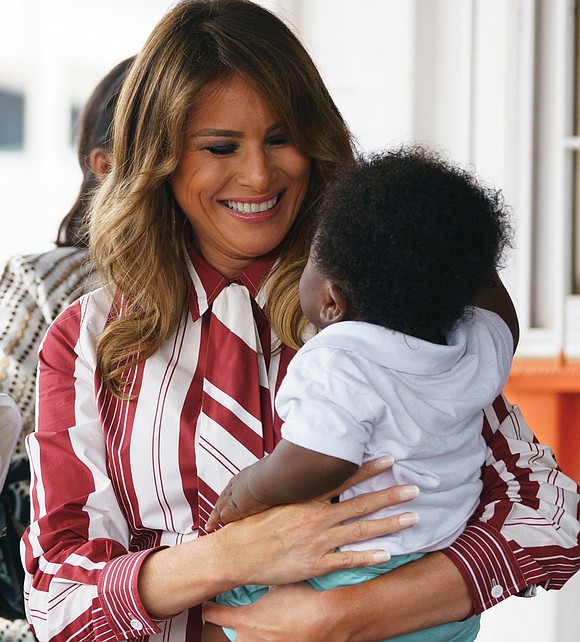 CAPE COAST, Ghana
First Lady Melania Trump laid a wreath at a 17th century slave fortress in Ghana on Wednesday, vowing never to forget where Africans were held before being shipped away into further hardship, most across the Atlantic.
Ghana marks the start for her first major solo international trip for Mrs. Trump as first lady, a tour of Africa, a continent her husband has referred to derisively. She will visit Malawi, Kenya and Egypt as well.
"It's very emotional ... I will never forget (the) incredible experience and the stories that I heard," she said after seeing the dungeons and walking through the "door of no return," the castle's final exit toward the Atlantic Ocean.
President Trump has not visited Africa since taking office in 2017. In January, he described African nations as "shithole countries" during a discussion with lawmakers about immigration. He has denied making the remark.
The Cape Coast castle, now a monument, has attracted world dignitaries including Mr. Trump's predecessor, former President Obama, whose father was Kenyan and his mother Caucasian, his wife, Michelle, and their two children.
President Obama likened the tour to his visit to the site of the former Nazi concentration camp at Buchenwald in Germany, saying it was reminiscent of the capacity of human beings to commit "great evil." A plaque at the Ghana fortress commemorates President Obama's visit.
During her tour on Wednesday, Mrs. Trump walked slowly with a guide through various wings, asking questions. She passed a row of cannons and descended into a dungeon where male slaves were held in chains.
"It's really, really touching," she said. "The dungeons that I saw, it's really something that people should see and experience, and what happened so many years ago — it's really a tragedy."
After passing through the "door of no return," she placed a wreath nearby and stood solemnly while her guide sang.
Before proceeding to the slave castle, she visited the palace of the head chief of the area and obtained royal approval to visit the fortress after U.S. officials presented a gift of drinks to the chiefs.
The ceremony took place in Obama Hall at the Emintsimadze Palace, which was renamed in President Obama's honor after his visit in 2009.
Mrs. Trump has made advocating for children her signature issue since becoming first lady. A U.S. official said the chief had invited two disabled children from a nearby school to the ceremony with the first lady, a break from local tradition in which it had previously been considered taboo to have anyone with handicaps in the palace. On Tuesday, her first day in Africa, Mrs. Trump was welcomed in Ghana's capital, Accra, by Ghana's First Lady Rebecca Akufo-Addo and a young girl who offered her flowers.
She also received a warm welcome at a local hospital, where she cooed over children, distributed stuffed animals and held a baby in her arms.
She later joined Mrs. Akufo-Addo for tea.