Justice Kavanaugh takes seat on U.S. Supreme Court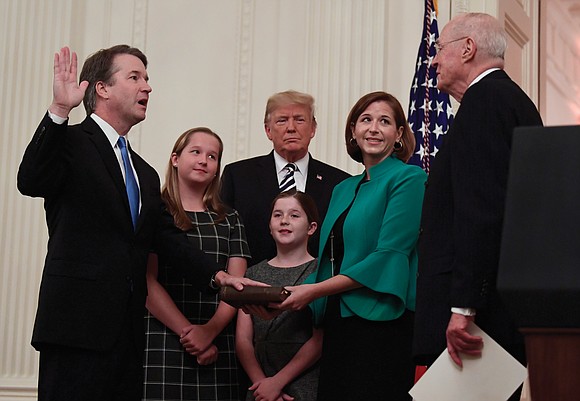 With courtroom security tight, there were no disruptions by protesters during the arguments, as there had been during the confirmation hearings and Senate vote.
Chief Justice John Roberts formally welcomed Justice Kavanaugh, 53, to a court that now has five conservative members and four liberals.
"We wish you a long and happy career in our common calling," Chief Justice Roberts told Justice Kavanaugh, who could serve for decades in the lifetime job.
Justice Kavanaugh is expected to push the court further to the right as he is replacing Justice Kennedy, a conservative who sometimes voted with the liberal justices on key social issues such as abortion and gay rights.
Justice Kavanaugh was President Trump's second selection for the nation's highest judicial body, following conservative Justice Neil Gorsuch last year.
Tuesday's cases involved the 1984 Armed Career Criminal Act, a "three-strikes-and-you're-out" criminal sentencing law that boosts prison sentences for people who are convicted of crimes involving guns if they previously have been convicted of certain other crimes.
The cases, involving a Florida robbery and burglaries in Tennessee and Arkansas, challenged the types of crimes that qualify as violent felonies under that law and can lead to 15-year mandatory minimum sentences.
Chief Justice Roberts prompted laughter when he described asking his law clerks to try to grab a dollar bill from his hand to determine if that constituted a violent act.
"I'm not saying nobody could do it ... but it requires a lot of force, more than you might think," Justice Roberts said.
Based on Tuesday's arguments, defendants could win in both cases, with liberal justices likely to be joined by some conservatives in the majority. Justice Kavanaugh appeared less sympathetic to the defendants than Justice Gorsuch.