Mo Alie-Cox now on Colts practice squad
Fred Jeter | 10/11/2018, 6 a.m.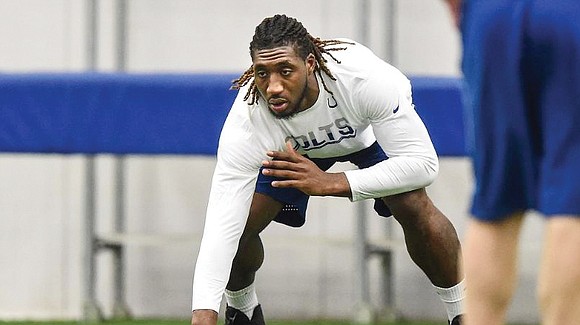 Mo Alie-Cox made his reputation in sneakers. Now he's trying to make a living in cleats.
The transition hasn't been seamless, but there has been at least one shining moment — or, in his case, "Mo-Ment."
Only three days after catching his first NFL pass with the Indianapolis Colts — an impressive 17-yard pickup from quarterback Andrew Luck in the team's Sept. 30 overtime loss to the Houston Texans — the former Virginia Commonwealth basketball center was cut from the Colts roster.
Remorse was short-lived.  
Two days after his release, Alie-Cox was re-signed to the Colts' practice squad. He's back, donning jersey No. 81 and wearing the Colts' iconic helmet with a horseshoe on the sides.
The brief trip to the unemployment line came as a bit of a shock. Alie-Cox had been in on 12 plays in the game against the Texans and seemed to have gained traction in his second pro campaign.
Most of Alie-Cox's tenure with the Colts has been relegated to the practice squad, with a minimum salary of $6,300 per week. While brief, his active status with the Colts is unique, perhaps unprecedented. Few NFL players, if any, never played football in college or, more remarkably, even high school varsity football.
Alie-Cox may deserve one-of-a-kind status.    
Football wasn't even an option for Alie-Cox in high school or college. In fact, VCU and Middleburg Academy, Alie-Cox's high school alma mater in Northern Virginia, don't have football squads.
Before joining the Colts as a free agent in 2017, the last time Alie-Cox actually wore shoulder pads was as a ninth-grade JV player at South County High School in Lorton, a year before transferring to Middleburg Academy.
Although he didn't play football, the rippling 6-foot-5, 267-pound Alie-Cox, known as "Mo-nan the Barbarian," sure looked like he could.
Following his senior season at VCU — he played 2013 to 2017 — scouts from 18 NFL teams converged on Richmond to observe his individual workout. The Colts were impressed enough to offer a contract, siding with athletic prowess over a football résumé.