VSU ready to rumble with Bowie State
Fred Jeter | 10/11/2018, 6 a.m.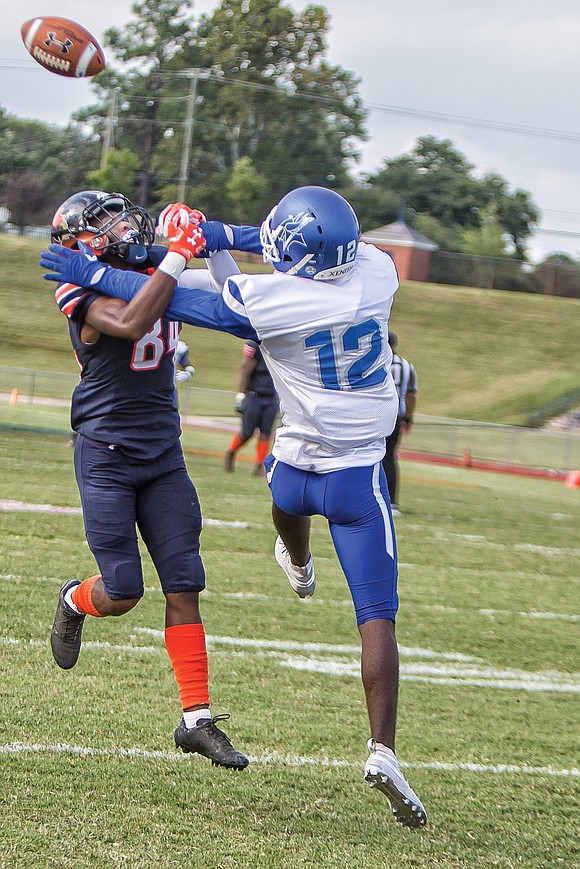 Two senior quarterbacks with glistening credentials will be center stage Saturday, Oct. 13, in Bowie, Md.
Bowie State University, led by sensational quarterback Amir Hall, will host the Virginia State University Trojans, led by quarterback Cordelral Cook.
It is a match likely to have an impact on the CIAA championship and NCAA playoff berths.
Hall, who has shattered about every CIAA passing record, was named Black College Football Player of the Year last February at the Black College Football Hall of Fame banquet in Atlanta.
On the other hand, Cook has helped orchestrate a gridiron revival in Ettrick that last year won the Trojans a CIAA title, a 10-1 record and a NCAA invitation.
Cook has the hot hand heading to Bowie State.
After starting the season with two losses and a hurricane-induced cancellation, Coach Reggie Barlow's Trojans have won three straight games by a combined 118-50.
VSU routed Elizabeth City State University 41-19 last Saturday at Rogers Stadium as Cook passed for 250 yards and two touchdowns. His preferred target was Josh Harris, a senior from Hanover High School, who made eight catches for 117 yards and a touchdown.
Demetrius Strickland rushed for 60 yards and a touchdown on 12 carries.
So far this season, Cook, who transferred to VSU from Alabama State University, ranks third in CIAA passing behind Hall and Chowan University's Bryce Witt.
A native of Stone Mountain, Ga., Cook signed with Alabama State, a member of the Southwestern Athletic Conference, when Coach Barlow was coaching the Montgomery school. Cook transferred to VSU with two years of eligibility.
Meanwhile, the 6-foot-4 Hall has sparkled while his team has struggled. The Bulldogs lost 42-23 at Chowan last Saturday and are 4-2 on the season.
In the loss to Chowan, Hall had 37 completions for 48 attempts through the air for 428 yards and three touchdowns. He also tossed two interceptions and was sacked three times.
While VSU dialed long distance for Cook, Hall, nicknamed "Showtime," was a local recruit for Bowie State out of Riverdale Baptist School in Upper Marlboro, Md.
A key defender for the Trojans might be red shirt freshman Kwabe Boateng. The 6-foot, 225-pound Boateng is second in the CIAA with five sacks, good for 34 yards in losses.
VSU will have to apply maximum pressure on Hall to keep him from thoroughly delighting what will be a festive Bowie State homecoming game.
History suggests Saturday's game will have long-range implications.
In 2016, Bowie State defeated VSU after the Trojans led by two touchdowns in the fourth period. Bowie State went on to win the CIAA championship.
But last year, VSU defeated Bowie State in Ettrick 47-35 and went on to become the CIAA champions.