Songs of redemption
Documentary film captures noted hip-hop artist 'Speech' of Arrested Development helping men incarcerated at the Richmond City Justice Center make strides toward better lives through music
By Samantha Willis | 10/18/2018, 6 a.m.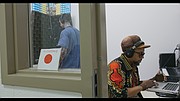 For 10 days, hip-hop artist Todd "Speech" Thomas, the front man for Arrested Development, worked inside the Richmond City Justice Center helping inmates to tell their stories via music.
They sang, rapped and played out their pain in music, part of a method to unearth the past and open new chapters in the lives.
It was all captured on film in a documentary, "16 Bars," that will premiere locally on Monday, Nov. 4, at the Byrd Theatre in Carytown.
Several years ago, "I was watching a TV show, and saw Sheriff (C.T.) Woody's work at the jail and the different organizations giving their time and efforts trying to rehabilitate the incarcerated men in positive, healthy ways, and I respected that," said Mr. Thomas, a Grammy Award-winning artist and activist who has been internationally regarded for his socially conscious lyrics for more than three decades.
That television program, "This Is Life with Lisa Ling," originally aired on CNN in 2015 and spotlighted innovative rehabilitation programming at the Richmond City Jail, now known as the Richmond City Justice Center.
Want to go?
What: Screening of the documentary "16 Bars," featuring four participants in the Richmond City Justice Center's REAL LIFE program who worked with Todd "Speech" Thomas of Arrested Development to write and record music reflecting their lives.
When: 1:30 p.m. Sunday, Nov. 4.
Where: Byrd Theatre, 2908 W. Cary St.
Details: The screening is free and open to the public, but tickets are recommended because seating is limited.
Register: www.eventbee.com/...
Mr. Thomas said he felt compelled to get involved. And after about two years of dialogue with administrators at the jail, decided to come to Richmond, spend a week and a half the incarcerated men and record music with them in the jail's makeshift recording studio.
Mr. Thomas' team contacted filmmaker Sam Bathrick of the Brooklyn, N.Y.-based Resonant Pictures to take the idea further. Mr. Bathrick and his film crew were responsible for adding sight to the sound Mr. Thomas and the inmates created.
The filming started in April 2017, with the last filming in December 2017, which coincided with the end of Sheriff Woody's administration. The current sheriff, Dr. Antionette V. Irving, took office in January.
"We were thrilled to work with Speech, of course, but I don't think we knew exactly what we were going to do," said Mr. Bathrick, whose film "200 Miles" premiered at the Tribeca Film Festival last year. "Once we started working together though, the creative process just took hold. (The film) piloted itself."
Four men participating in the jail's REAL LIFE program appear in "16 Bars." Their struggles show plainly on the screen: Substance abuse and addiction, criminal actions that landed them behind bars, complicated relationships with their families, to name a few.
In the documentary, the men work to identify and correct negative patterns of behavior and learn to make positive choices to benefit their futures, said Dr. Sarah Scarborough, founder of REAL LIFE, a nonprofit that began in 2013 as a rehabilitation and recidivism reduction program for the incarcerated and former inmates at Richmond City Jail.