VSU banking on a homecoming win this Saturday
Fred Jeter | 10/18/2018, 6 a.m.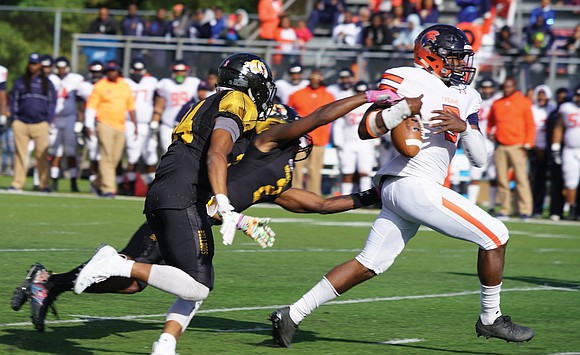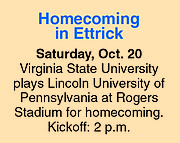 This has been a "what if" football season for the Virginia State University Trojans.
During the homecoming game this weekend, Trojans fans can't help but ask "What if?" regarding three painful road losses that has VSU on the outside looking in at CIAA title and NCAA aspirations.
Third-year Coach Reggie Barlow's squad figures to put smiles on faces Saturday, Oct. 20, against Lincoln University of Pennsylvania. The Lincoln Lions lost at Virginia Union University 90-0 on Oct. 3, but rallied to beat Elizabeth City State University last Saturday.
It was Lincoln's first win in two years.
VSU, the defending CIAA champion, is 3-3 this season, but not that far from being 6-0. The Trojans led Robert Morris University 19-7 in the fourth quarter of the Sept. 8 game and trailed Norfolk State University by only 17-13 entering the fourth quarter of that game on Sept. 1. But the Trojans wound up losing both games — away from home — against higher classified, FCS programs.
VSU is in the NCAA Division II.
Still, the most haunting loss came last Saturday at Bowie State University, where the Trojans outplayed the Bulldogs most everywhere except on the scoreboard.
VSU led in rushing yardage, 184-102; passing yardage, 215-171; total yardage, 399 to 273; and in first downs, 22-15.
Statistically, at least, VSU quarterback Cordelral Cook outshined Bowie State quarterback Amir Hall, the 2017 Black College Football Player of the Year. Cook accounted for a 298 yard total offense to Hall's 179.
While Hall is the CIAA's premier passer, Cook may well be the league's top dual-threat quarterback.
Three lost fumbles were VSU's downfall against the Bulldogs, including one inside the Bowie State 5-yard line in the waning seconds of the game's first half.
Also, VSU narrowly missed recovering an onside kick in the game's final minutes that might have made the difference.
Now here's the good news: The Trojans are still in contention for the CIAA Northern Division title and a trip to Salem for the CIAA championship game on Nov. 10.
Here's how that could happen: The Trojans must defeat Lincoln University, Chowan University and Virginia Union University to close the regular season and hope that VUU knocks off Bowie State this weekend in Richmond.
Its unlikely Bowie State will lose to any team but VUU, considering its favorable closeout schedule against Lincoln and Elizabeth City State University.
VSU's best bet might be hoping for a three-way tie for the division title and to prevail on a chaotic series of tie breakers.
In the meantime, in this most festive of campus weekends, Trojans fans will be wondering "what if?" They're so close to having a great season, but for now must settle for something less.