Justifiable homicide
Richmond Police officer cleared in May shooting death of teacher Marcus-David Peters, who was naked and unarmed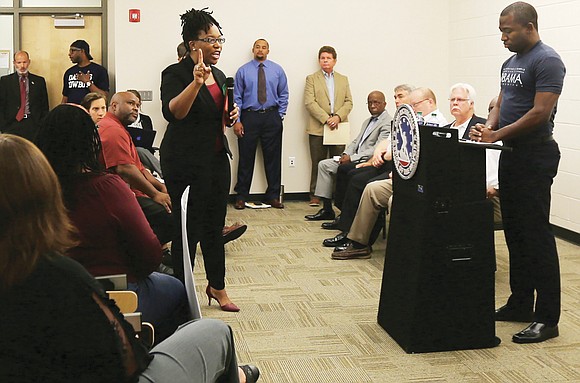 She and others want the city to create a civilian review board to investigate police shootings and also want officers to have more options for using non-lethal force.
Mr. Herring's report does not include any recommendations for policy changes and essentially supports and confirms previous city Police Department statements about the events that led to the shooting.
During an earlier news conference last Friday morning at the courts building, Mr. Herring said, "I don't know how it could have been done any differently."
According to the report, Mr. Peters had smoked marijuana after getting home from the high school and then drove to The Jefferson Hotel, where he ended up stripping off his clothes inside the hotel and driving away naked.
Officer Nyantakyi got involved after seeing Mr. Peters crash into a car at Franklin and Belvidere streets and speed off northbound on Belvidere Street.
The officer also saw Mr. Peters leave his car after crashing by the interstate entrance ramp and dash onto I-95, where he was struck by a car and rolled and flapped around on the highway.
While the officer reported via radio that Mr. Peters appeared mentally unstable and requested backup, the reports states, "The officer couldn't stand by and let Mr. Peters continue to break down on 95."
While much of the story in the report is known, the pages offer new insights into the case.
That includes Mr. Peters' previously undisclosed use of a cocktail of marijuana and unprescribed Ritalin, a drug used to treat attention deficit disorder, but which can create erratic and psychotic behavior in some.

Ms. Blanding insisted her brother did not illegally use drugs and also had touted an autopsy report as finding none.
However, residue from the Ritalin and THC, the active ingredient in marijuana, were disclosed in a separate toxicology report that was released later.
Mr. Herring's report notes that investigators turned up a witness who admitted giving Mr. Peters a bottle of generic Ritalin and another who said Mr. Peters admitted taking the medicine. Evidence also developed about Mr. Peters' use of marijuana.
According to the report, Mr. Peters' mental decline "started one to two weeks before his death."
One witness told investigators that Mr. Peters had been acting "a little bit weird" in the week before the shooting, the report noted. There also were concerns about Mr. Peters' strange behavior at school, the report stated, adding that one witness claimed that Mr. Peters' relatives discussed the situation on Mother's Day, the day before he was shot.
The report seeks to make it clear the shooting of the Virginia Commonwealth University graduate was tragic, but the result of Mr. Peters' specific actions that day.
"Regardless of the cause of Mr. Peters' behavior, whether it was the result of a mental health crisis or whether it was drug induced, he was acting erratically and dangerously," the report states.
"In no way are we suggesting that individuals suffering from mental illness should be killed by law enforcement," the report continues. "Indeed like most Richmonders, we are disturbed by the outcome, particularly because Mr. Peters was an accomplished young man devoted to public service."