Justifiable homicide
Richmond Police officer cleared in May shooting death of teacher Marcus-David Peters, who was naked and unarmed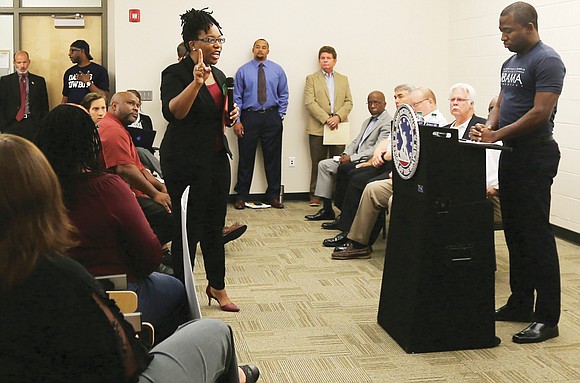 Ms. Blanding and her supporters are fervent in their belief that Mr. Peters would be alive today if the department trained officers to use non-lethal options for dealing with people with mental issues.

The report notes that Officer Nyantakyi first fired a Taser in seeking to stop Mr. Peters, but that did not work. One of the two prongs did not connect.
The report called ideas that the officer could shoot to wound an unrealistic fantasy that is promoted by TV dramas and movies.
The report also stated that Officer Nyantakyi considered engaging hand-to-hand with Mr. Peters but did not "because of Mr. Peters' erratic behavior, his unresponsiveness to pain after being hit by a car when he ran into the roadway and fear that Mr. Peters might land on top of him."
Still awaiting backup units, the officer indicated he knew Mr. Peters was unarmed when the teacher rushed him, but indicated that Mr. Peters was grabbing him and his gun when he fired, the report states.
To the officer, "it was 'an all-out fight between the two' to gain control of the gun," the report continues
The officer only fired when Mr. Peters continued to charge, the report states.