Noted journalist Bob Woodward to speak Sept. 25 at VCU
9/13/2018, 6 a.m.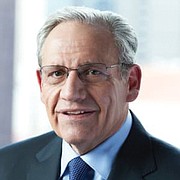 Pulitzer Prize-winning journalist Bob Woodward, author of the new book "Fear: Trump in the White House," will speak 6 p.m. Tuesday, Sept. 25, at the Virginia Commonwealth University's W.E. Singleton Center for the Performing Arts, 922 Park Ave.
The event is free and open to the public.
Doors open at 5 p.m.
If the Singleton Center is filled to capacity, video will be streamed to three overflow locations on campus — the James W. Black Music Center Recital Hall at 1015 Grove Ave., the James Branch Cabell Library's Lecture Hall in Room 303 at 901 Park Ave. and Room 1164 of the T. Edward Temple Building, 901 W. Main St.
The talk is part of the VCU Humanities Research Center's Fall 2018 Speaker Series, and is co-sponsored by the VCU Office of the President and VCU's Richard T. Robertson School of Media and Culture.
An associate editor of The Washington Post, Mr. Woodward has covered eight presidents and shared a Pulitzer Prize in 1973 with Post reporter Carl Bernstein for their coverage of the Watergate scandal that led to the resignation in August 1974 of President Richard M. Nixon.
As The Post's lead reporter for coverage of the 9/11 terrorist attacks in 2001, Mr. Woodward shared a Pulitzer Prize in 2002 with other Post staffers.
He is the author or co-author of 18 books, the latest on President Trump already creating national buzz with its revelations from insiders about the disarray in the Trump administration.