Personality: Megan Irvin
Spotlight on Massey Alliance board president
9/13/2018, 6 a.m.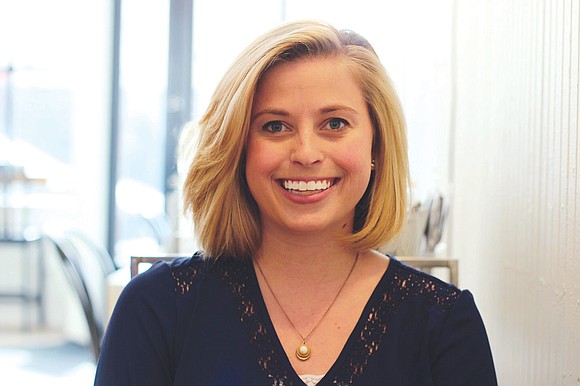 Megan Irvin, president of the Massey Alliance board, loves being involved in the community.
Moving to Richmond in 2011 after earning a degree in sociology from Roanoke College, the 29-year-old York, Penn., native was looking for a way to give back to the community and to meet new people.
She attended Massey on the River, a fundraiser for the VCU Massey Cancer Center hosted by the Massey Alliance on the James riverfront, and was hooked.
She wound up volunteering with the alliance. Her role has since evolved to serving on the board, and now leading it for the 2018-19 term.
"It was a lot of fun," Ms. Irvin recalls of that first event she attended as a guest. "All of the people planning the riverside event seemed to get along and seemed to be a group of people that I wanted to get to know and be associated with."
Want to go?
What: Massey on the River, a fundraiser for the VCU Massey Cancer Center hosted by the Massey Alliance.
When: 6 p.m. Friday, Sept. 21, on Mayo Island.
Details: Food, beverages, music by Three Sheets to the Wind and a silent auction. Tickets: $50.
Info and ticket purchase: Michelle Adcock, (804) 828-1187, or www.massey.vcu.ed...
The Massey Alliance is a group of young professionals who raise awareness of and support for VCU Massey Cancer Center's research, resources and programs.
Since its formation in 2002, the alliance has grown into a more than 30-member junior board under the Massey Cancer Center Advisory Board and an ever-expanding group of more than 500 volunteers and supporters.
Each year, the alliance puts on dozens of fundraisers and two educational events for the public and conducts outreach through public relations and social media.
This year's 9th AnnualMassey on the River fundraiser will take place Friday, Sept. 21, on Mayo Island.
"I feel so lucky to be a part of an organization that is doing so much tremendous work in the Richmond community," Ms. Irvin says.
"Being a part of the alliance allows me to learn more about the life-saving research happening right her in Richmond. From precision medicine to immuno-oncology to their work in health disparities and cancer prevention, there is a lot to know and learn about Massey Cancer Center. And being a part of this group let's me in on the work being done and have hope for a future without cancer."
Ms. Irvin also is proud of the alliance's spring and fall education programs "Appetizers and Advocacy" that are free and open to the public.
She says it's important for volunteers to find a place where they are excited about helping. The Massey Alliance offers that opportunity.
Meet an advocate for the VCU Massey Cancer Center and this week's Personality, Megan Irvin:
Occupation: Public relations professional at The Hodges Partnership.
No. 1 volunteer position: Board president of the Massey Alliance.
Date and place of birth: Jan. 6 in York, Penn.
Current residence: Richmond.
Education: Bachelor of arts, Roanoke College.
Family: Husband, Taylor.
When and why Massey Alliance was founded: Through volunteerism, community outreach and fundraising, the alliance expresses its strong support for the people and programs at VCU Massey Cancer Center. The alliance, started in 2002, forms a foundation of philanthropy that will benefit Massey Cancer Center for years to come.