Personality: Megan Irvin
Spotlight on Massey Alliance board president
9/13/2018, 6 a.m.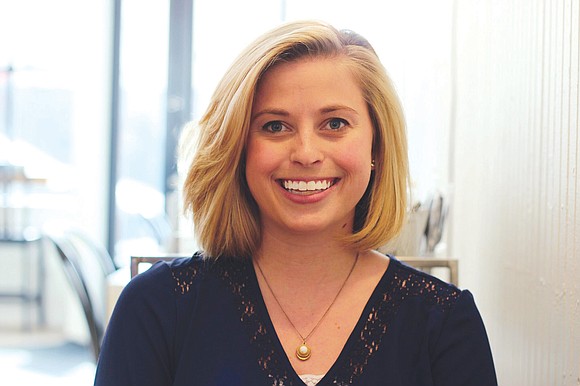 My Massey Alliance role: As the president, I serve as the leader of a 30-plus group of young professionals who are committed to doing great work for Massey Cancer Center.

How is Massey Alliance involved in the community: While we host dozens of fundraising events throughout the year, we also host two educational events, Appetizers and Advocacy, where we bring nearly 100 community members together with a panel of cancer researchers or physicians and a patient or family member to share perspective on the work that Massey Cancer Center is doing. The events are free and open to the public.
We could do more if: We're always looking for sponsors and community support to back the work we do to raise money for Massey Cancer Center. Throughout the years, we have increased the number of restaurants, companies and individuals who support our efforts and we continue to raise more year after year. It's through our collective passion for cancer research that we will move the needle in finding cures.
What it takes to become a Massey Alliance volunteer: We always say the best thing people can do is just show up. We're always looking for Massey supporters who are passionate about the mission and willing to dedicate their time to the cause.
How I start the day: I always try to have an attitude of gratefulness and appreciation for the things big and small that make me so lucky.
If I had more time, I would: Watch more movies.
A quote that I am inspired by: "Do things for people not because of who they are or what they do in return, but because of who you are." — Harold S. Kushner
How I unwind: Reading, a long walk or spending time with my dog Max, a Cavalier King Charles Spaniel. And I take up any excuse I can to get to the ocean because that's the best way to unwind!
Kindergarten taught me: Honestly, probably the power of a good nap. I think we all could have something to gain by taking a break for a nap a little more often.
Something I love to do that most people would never imagine: I don't think I would ever do it again, but I went bungee jumping in South Africa during college. I think I even surprised myself by taking that leap!
The person that influenced me the most: My mom.
Book that influenced me the most: "The Middle Place" by Kelly Corrigan.
What I'm reading now: "A Man Called Ove" by Fredrik Backman.