Serena loses U.S. Open to Naomi Osaka after challenging umpire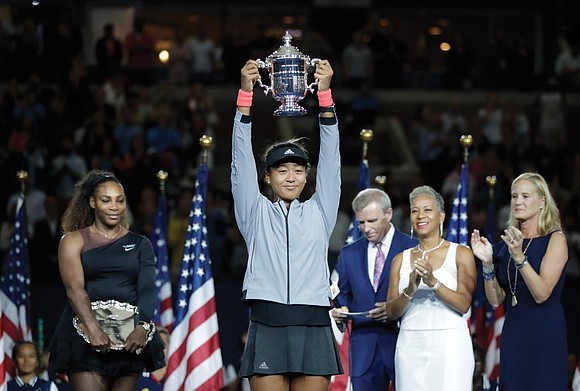 NEW YORK
Serena Williams' behavior in last Saturday's U.S. Open final divided the tennis world after she called the chair umpire a "liar" and a "thief" and said he treated her differently than male players during her loss to 20-year-old Naomi Osaka.
Osaka, the daughter of a Haitian father and Japanese mother, became Japan's first Grand Slam singles champion by thumping Serena 6-2, 6-4 in the controversial final in which Serena challenged the umpire after being given a code violation.
It was drama-filled conclusion to a match rich with storylines that will go down as one of the most controversial Grand Slam finals of all time.
There was much riding on the outcome for both players, with Osaka bidding to become the first man or woman from Japan to lift a Grand Slam singles title and Serena trying to equal Margaret Court's record of 24 major titles.
In the end, it was Osaka making history but on a day of bizarre events her victory will only be a footnote to what is sure to go down as one of the most infamous matches ever played at Flushing Meadows.
Serena was handed a warning for a coaching violation before being deducted a point for smashing her racquet.
She then had a heated argument with Portuguese chair umpire Carlos Ramos, which cost her a game.
The six-time U.S. Open champion, who has since been fined $17,000 — to be deducted from her $1.83 million prize — by the United States Tennis Association for the violations, vigorously disputed each during the match.
The chaotic finish, filled with screaming, tears and jeers, cast a cloud over what should have been Osaka's shining moment.
Standing on the podium waiting to be handed her trophy and a winner's check for $3.8 million, Osaka heard only boos as an angry crowd took out their frustration on Ramos, who stood to the side.
Serena hugged and congratulated Osaka. She said at a later news conference that she didn't want the incident to take away from Osaka's victory.
"She played an amazing match," Serena said of Osaka. "She deserved credit, she deserved to win. At the end of the day, that's what it was."
Serena also said she will continue to fight against what she called "sexism" in the game.
"I've seen other men call other umpires several things," she said. "I'm here fighting for women's rights and for women's equality and for all kinds of stuff. For me to say 'thief' and for him to take a game, it made me feel like it was a sexist remark. He's never taken a game from a man because they said 'thief.' For me, it blows my mind."
Serena said while it may not help her, she will help fight for equal treatment for women in the game so it will help players in the future.
There were messages of support for Serena, as well as those condemning her behavior and agreeing with the umpire's calls.
Tennis great Billie Jean King wrote on Twitter: "When a woman is emotional, she's "hysterical" and she's penalized for it. When a man does the same, he's "outspoken" and there are no repercussions. Thank you, @serenawilliams, for calling out this double standard. More voices are needed to do the same."