NFL black power: NFL starts season with 7 African-American coaches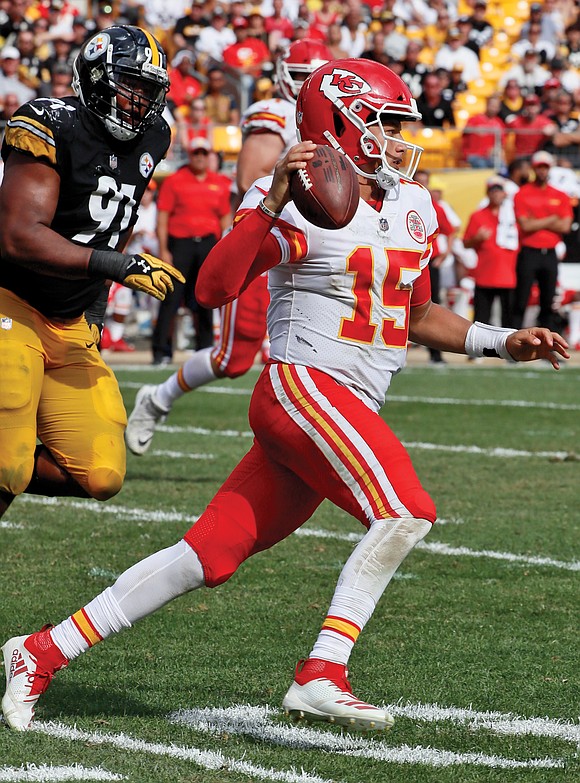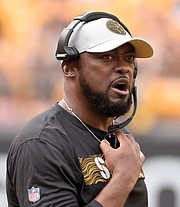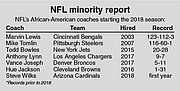 Virginia native Mike Tomlin is on pace to become the winningest African-American coach in NFL history.
The Pittsburgh Steelers' 46-year-old coach started this season with 116 career, regular season victories against just 60 losses.
Among African-American NFL coaches, only Tony Dungy has more victories, with 148 wins as head coach with the Tampa Bay Buccaneers and the Indianapolis Colts combined.
Cincinnati Bengals Coach Marvin Lewis is the current leader among African-American NFL coaches with 123 wins. But Coach Lewis is 59 and perennially on the hot seat because of an absence of postseason success; the team is 0-7 in the playoffs.
By contrast, Coach Tomlin has a Super Bowl title, two trips to the AFC championship game, eight playoff appearances and an 8-7 overall postseason mark.
In February 2009, Coach Tomlin became the youngest coach ever to win a Super Bowl when Pittsburgh defeated the Arizona Cardinals.
Highly popular among fans and players, Coach Tomlin has been the Steelers' coach since 2007 and could easily remain in that capacity another 20 years-plus.
Even Coach Don Shula's all-time record of 347 wins with the Baltimore Colts and the Miami Dolphins eventually could be challenged should Coach Tomlin stick around until he is 70-ish.
A native of Hampton, Coach Tomlin was a star football wide receiver at Denbigh High School in Newport News and The College of William & Mary, where he made the second-team, All-Yankee Conference.
Tomlin met his wife, New Jersey native Kiya Winston, while both were students at W&M.
His father, Ed Tomlin, played football at Hampton University (then Hampton Institute), was drafted by the Baltimore Colts and later played in the Canadian Football League.
Coach Tomlin did not have a close relationship with his father. He was raised by his mother and stepfather, Leslie Copeland, who retired after 37 years with the U.S. Postal Service.
Coach Tomlin's older brother, Eddie Tomlin, played football at the University of Maryland.
Before his arrival in Pittsburgh, Coach Tomlin was a collegiate assistant coach at Virginia Military Institute, University of Memphis and Arkansas State University. That led to assistant NFL coaching jobs with Cincinnati, Tampa and the Minnesota Vikings.
He impressed on every level, leading to his becoming head coach of the Steelers as Coach Bill Cowher's successor.
A tough act to follow, Coach Cowher was 149-90-1 as the Steelers coach from 1992 to 2006 and won the 2005 Super Bowl.
Only 17 African-Americans have served at least one full season as head coach in the NFL. The first was Art Shell, who posted a 58-55 record coaching the Los Angeles Raiders 1989 to 1994 and again in 2006 after the team returned to Oakland.
The number of African-American coaches peaked in 2011 at eight.
The elite group lost a member when veteran Coach Jim Caldwell was fired by the Detroit Lions following 2017, but kept pace when Coach Steve Wilks was hired by Arizona.
Coach Caldwell was 62-50 overall coaching Indianapolis and Detroit, and took the Colts to the 2009 Super Bowl, losing to the New Orleans Saints.
Other prominent African-American coaches have been Dennis Green (117-102, 1992 to 2006), Lovie Smith (92-90, 2004-2015) and Herman Edwards (56-78, 2001-2008).
All were eventually fired.
There's an old saying that coaches are "hired to be fired." That said, Coach Tomlin's stock would seem to be rising in a volatile profession. He has never had a losing record with the Steelers and seems to be gathering momentum. His Steelers are 45-19 since 2011, including 13-3 in 2017.