'America's Dad' Bill Cosby now inmate No. NN7687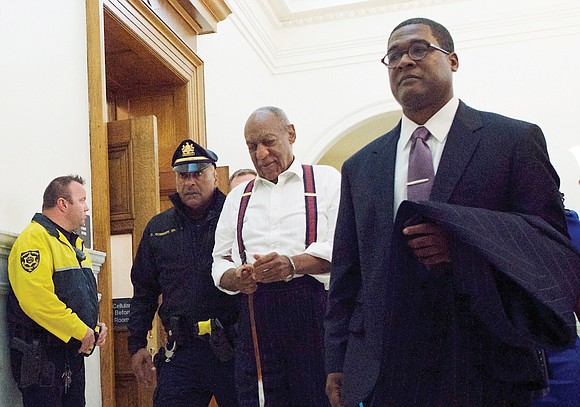 Judge O'Neill also designated Mr. Cosby a "sexually violent predator" under Pennsylvania law. Under that designation, he will have to undergo monthly counseling and register as a sex offender with police for the rest of his life. Neighbors and schools will be notified of his address, certain movements and crimes, as will Ms. Constand.
When prosecutors told Mr. Cosby in court he would not have to inform Ms. Constand of his movements himself but that a proxy would do so, he replied, "Good!"
Mr. Cosby has denied any wrongdoing. Asked if he wanted to address the court with a statement before sentencing, Mr. Cosby declined through his lawyers. His lawyers had asked that he be placed under house arrest, citing his age and frailty.
More than 50 women have accused Mr. Cosby of sexual abuse going back decades, with most complaints too old to prosecute. The Constand case was the only allegation that led to criminal charges.
Ms. Constand said in a written statement submitted to the court on Monday that the attack had turned her into a woman who was "stuck in a holding pattern for most of her adult life, unable to heal fully or to move forward."
"Bill Cosby took my beautiful, healthy young spirit and crushed it," she wrote.
Mr. Cosby's first trial in 2017 ended in a mistrial when jurors could not reach a unanimous verdict.
He spent his first night as a prisoner in a single cell near the infirmary at a new state lockup, a mere 20 miles from the suburban Philadelphia mansion where, a jury found, he sexually assaulted Ms. Constand.
Prison officials will process Mr. Cosby at the nearby state prison in Schwenksville before determining in which of Pennsylvania's 22 male prisons he will serve his sentence, prison spokeswoman Amy Worden wrote in an email.
He will be one of 86 inmates over age 80 held by Pennsylvania's Department of Corrections, where the two oldest inmates are both 91, Ms. Worden said.
Mr. Cosby also is defending defamation lawsuits filed by at least 10 accusers in Massachusetts and California, which were mostly put on hold during the criminal case. The women say that Mr. Cosby and his agents deemed them liars by denying their sexual assault accusations.
Mr. Cosby has countersued seven women in the Massachusetts case, alleging they engaged in a campaign to "assassinate" his "honorable legacy and reputation."
"He says his reputation was harmed," the women's lawyer, Joseph Cammarata, said. "I'm going to say he had no reputation to harm."
Mr. Cammarata will ask a judge next month to schedule a trial date and let him take Mr. Cosby's deposition. Mr. Cosby's lawyers deposed the women and Mr. Cammarata deposed Camille Cosby, but Mr. Cosby himself got a reprieve while the criminal case loomed.
"At least we know where to find him," Mr. Cammarata said.