Hooray for the Hoos!
The University of Virginia Cavaliers beat Texas Tech in a nail-biting overtime game to clinch the first NCAA title in school's history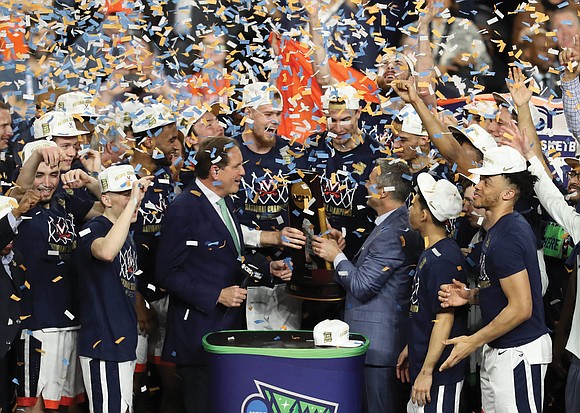 This season has been billed as "The Redemption Tour."
U.Va.'s final three victories to claim the title were all classic thrillers. On March 30, U.Va. forward Mamadi Diakite scored at the buzzer of regulation, following a length-of-court pass, to tie the game against Purdue University. Then Virginia survived in overtime for the Elite Eight victory.
In a nail-biter against Auburn University last Saturday, Guy swished three free throws with under a second left to keep the season afloat. 
Virginia reached a stunning 66-6 in the past two seasons and 254-89 overall in Coach Bennett's 10 campaigns in Charlottesville.
In addition to Guy and Hunter, other key starters for the Wahoos are juniors Ty Jerome and Diakite and freshman Kihei Clark.
Top reserves are sophomore Jay Huff and junior Braxton Key, who had six points and 10 rebounds against Texas Tech off the bench.
The 35 wins this season stand as a school record. And while U.Va. is renowned for its conservative, grind-it-out style, the 85 points was the most by a NCAA champion since 2009, when the University of North Carolina topped Michigan State University 89-72.
Among Virginia's unsung stars is the Cavaliers' Associate Head Coach Jason Williford from Richmond.
Williford is in his 10th year on the Virginia staff after previous assistant coaching gigs at American University and Boston University.
Williford was an All-Metro player at Richmond's John Marshall High School before signing as a student with the Cavaliers. He was joined on the 1990 All-Metro team by Kendrick Warren and Thomas Meredith of Thomas Jefferson High School, Ted Berry of Huguenot High School and Yuri Barnes of Manchester High School in Chesterfield County.
Coincidentally, both Williford and Barnes went on to star for U.Va.
Williford later played professionally in Iceland and Korea before returning to Richmond and serving as assistant coach at John Marshall in 1999 and 2000.
Williford is highly respected in the coaching ranks. His name frequently pops up when there are coaching vacancies.
Coach Bennett becomes part of just the second father-son duo to coach in the NCAA Final Four. His dad, Dick Bennett, led the University of Wisconsin to the Final Four in 2000. 
The other father-son coaches reaching the Final Four were John Thompson Jr. and John Thompson III, both with Georgetown University.
Coach Bennett's Wahoos won the best-in-the-land honors despite having no substantial senior leaders, and despite an absence of homegrown talent.
Virginia's only in-state player is deep-reserve freshman Jayden Nixon. And while Nixon grew up in Charlottesville, he played high school ball in Connecticut.
This was U.Va's third trip to the Final Four. The Cavaliers made it in 1981 with Ralph Sampson leading the charge and again in 1984 when Olden Polynice was the NBA-bound center.    
While Virginia could lose Hunter, and possibly even Guy, to the NBA draft, there is more talent headed to John Paul Jones Arena.
U.Va.'s incoming freshmen next season include 6-foot-11 Kadin Shedrick from Holly Springs, N.C., and 6-foot-3 Casey Morsell from St. John's College High School in Washington. Both are ranked among the top 100 players in the nation by most scouting services.