Rain cancellations don't dampen Flying Squirrels' opening spirit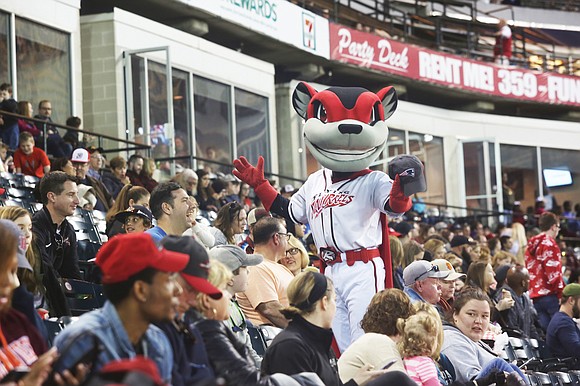 This is nothing new. Prior to the Squirrels' arrival in Richmond, several other local baseball pros were known for stealing bases.
Ralph Garr: No one kicked up more dust at Parker Field, the forerunner of The Diamond, than the man known as "The Roadrunner." Garr stole 63 bases for the Richmond Braves in 1969 and 39 more in 1970 before sprinting to an illustrious big-league career.
Eddie Miller: In three seasons in Richmond, "Ever Ready Eddie" pilfered 36 bags in 1978, 76 in 1979 and 60 more in 1980.
Albert Hall: He deserves to be in the "Hall of Fame" of Richmond base stealers. The centerfielder swiped 62 bags in1982 and another 46 in 1983.
Brett Butler: "Brett the Jet," out of Arizona State University, scorched the local base paths with 44 steals in 1981 before going on to pilfer 558 bags in his 17-year career in the big leagues.
Neon Deion: Without fear of debate, the fastest man ever to wear a Richmond uniform was baseball-football great Deion Sanders. "Prime Time" Sanders played only 29 baseball games in Richmond in 1991 and didn't have many opportunities to steal. But he ran 40 yards in 4.27 seconds at the NFL Combine in 1989 and ran a time of 10.26 seconds in the 100 meters and 20.76 in the 200 meters during his days at Florida State University.
Brian Jordan: Another football-baseball mega-athlete to wear the Richmond Braves' colors was University of Richmond graduate Brian Jordan for four games in 2006.
Speed was abundant in the old Virginians' lineups, too.
Horace Clarke stole 20 bases in 1963 and 1964, and Pedro "Speedy" Gonzalez picked up 17 steals in 1961 and 13 in 1963.
Which brings us back to the current Richmond Flying Squirrels.
If 40-year-old manager Willie Harris ever needs a pinch runner, he might consider calling on himself.
Harris stole 54 bases for Bowie, Md., in 2001 and totaled 183 steals at the big league baseball level in 638 games.
In a tight situation, perhaps Harris' title could be altered to manager-pinch runner.