Hip-Hop Poetry Slam on April 24
4/19/2019, 6 a.m.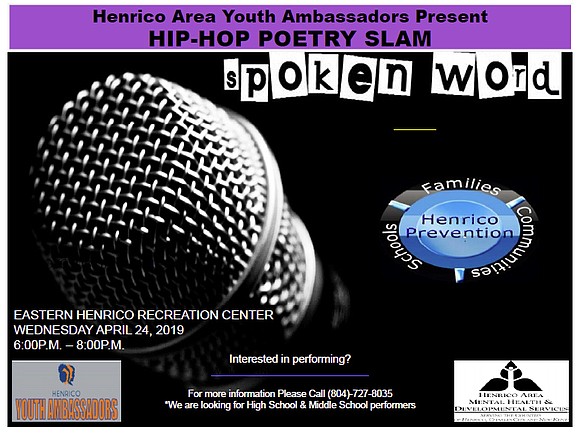 A Hip-Hop Poetry Slam will be held next week to allow Richmond area youths to speak out on preventing substance abuse, it has been announced.
Henrico Area Prevention Services has issued an invitation for people of all ages to take part in the poetry slam 6 to 8 p.m. Wednesday, April 24, at the Eastern Henrico Recreation Center, 1440 N. Laburnum Ave.
Because the focus of the event is on youths, participants ages 11 to 18 will receive gift cards and be eligible for other prizes, according to program coordinator Michael Harris.
Mr. Harris stated people interested in participating should register by Monday, April 22, at henricoprevention.org or by contacting him directly at (804) 727-8035 or online at har42@henrico.us. Entries will be reviewed for appropriate language and content, Mr. Harris stated.