Local couple in Paris bears witness to Notre Dame fire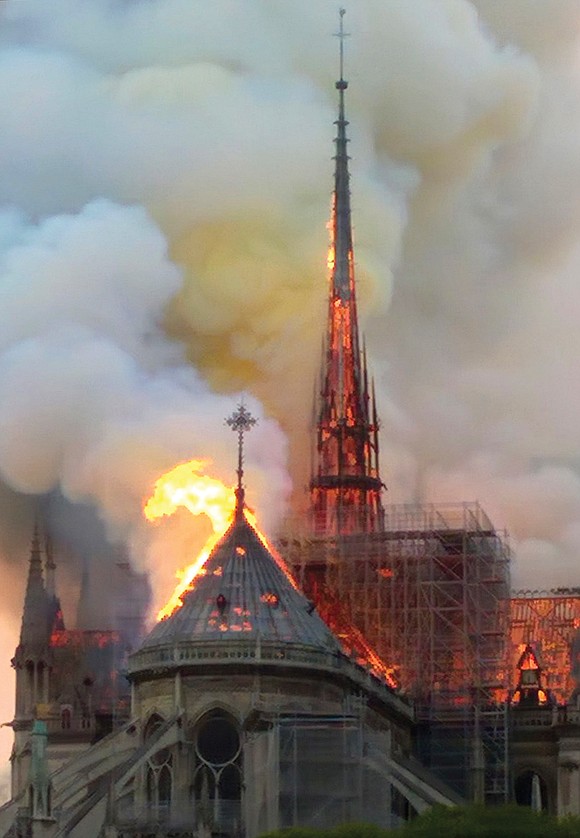 PARIS
George K. Martin of Mechanicsville and his wife, Anita, arrived in Paris on Sunday night and made a sightseeing list that included some of the top tourist spots in the City of Lights, including Notre Dame Cathedral.
But instead of heading to Notre Dame on Monday, the couple toured the Paris Opera House.
Hours later, the couple realized their choice may have been an unfortunate mistake.
Mr. Martin, managing partner of McGuireWoods' Richmond office, got a news alert on his cellphone that the iconic Notre Dame was burning.
"We heard a lot of sirens," Mr. Martin said in a telephone interview with the Free Press late Monday from Paris. When the couple left their hotel for dinner, scores of people lined a bridge across the Seine River, watching as smoke and flames rose from the cathedral.
"It's sad and hard to believe that something that is 850 years old and been around through so much history, including the French Revolution, was suddenly going up in smoke," Mr. Martin said. "People were in shock and disbelief."
The timing, just days before Easter, makes it even more tragic, he said.
"I wish we had gone there," Mr. Martin lamented, adding he would be scouting for postcards of the cathedral and its interior. "I hope they can rebuild."
With the flames extinguished, experts on Tuesday began assessing how much the shell of Notre Dame has been damaged and how many years — maybe decades — it will take to repair and rebuild.
Paris, all of France and people watching live television around the world held their breath Monday evening as a sudden fire in the edifice claimed the roof, felled the elegant spire that stood atop its transept and spread down into the nave to threaten priceless religious relics and artwork.
About 400 firefighters battled the blaze, pumping water into the nave and trying to keep flames away from the giant stained glass rose windows and the endangered northern bell tower of the most visited monument in Europe.
French President Emmanuel Macron and Paris Mayor Anne Hidalgo took a quick look inside the building Monday evening as firefighters fought the blaze. President Macron emerged to announce that France would rebuild the state-owned cathedral "because that's what the French expect, because that's what our history deserves, because it's our profound destiny."
Mayor Hidalgo described a hole in the roof where the spire crashed through but added a hopeful note. "The altar and its cross were preserved," she said. "It's less terrible than I feared."
Standing outside the monument Tuesday, Paris prosecutor Rémy Heitz contradicted speculation that the fire was an attack on Notre Dame.
"There is nothing that indicates a voluntary act," he said. His office announced it had opened an inquiry into a case of "involuntary destruction by fire."
Reconstruction will probably take decades and cost hundreds of millions of euros.
The investigation will be "long and complex," Mr. Heitz warned, adding that his staff had begun quizzing several dozen workers who had been doing renovation work on the roof. All had already called it a day on Monday before the fire broke out about 6:20 p.m. Paris time.