Flying Squirrels second baseman Jalen Miller, 22, already in Baseball Hall of Fame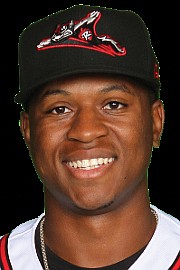 On the pro level, he is often compared to Cincinnati Reds second baseman Brandon Phillips from Stone Mountain, Ga. Miller and Phillips have more in common that being African-American and from Georgia.
"Brandon's father (James Phillips) was my workout coach in high school," Miller said. "And sometimes Brandon would come by and work out with us. That was pretty cool."
James Phillips runs the Phillips Baseball Center in Pine Lakes, Ga. Brandon Phillips, like Miller, signed a pro contract straight out of high school.
Miller hopes someday in the not too distant future to become a fixture at second base in San Francisco, just like Phillips is in Cincinnati. The Giants' current second baseman is former Flying Squirrels player Joe Panik.
In recording his cycle a year ago in San Jose, Miller tripled in his final at bat off Lancaster, side-arming right-hander Justin Lawrence.
"I hit a line drive that the centerfield dove for and missed. It went by him and that's how I got a stand-up triple," Miller explained.
The jaw-dropping performance made waves all the way to Cooperstown, N.Y., site of the National Baseball Hall of Fame and Museum. Cooperstown officials requested a photo of Miller and a photo of the scoresheet as proof.
So the Flying Squirrels second baseman was a millionaire at 18 and part of the Baseball Hall of Fame at 21. It could be said that Miller rode his cycle all the way to Cooperstown.