NFL draft may hold some surprises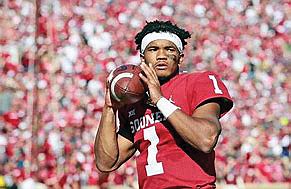 Schools like Ohio State and Alabama are used to having their athletes selected near the top. By contrast, the University of Kentucky is much more likely to have a basketball player drafted than a football star.
A second first round possibility for Kentucky is cornerback Lonnie Johnson.   
Eenie, meenie, miney, Mo Alie-Cox: The draft, despite a "look under every rock" concept by scouts, isn't an exact science. 
Some of the premier college players never make it in the NFL. Then there are those like former Virginia Commonwealth University basketball center Mo Alie-Cox, who landed with the Indianapolis Colts as a free agent after never playing a down on the college gridiron.
A tight end, Alie-Cox caught two touchdown passes from Colts quarterback Andrew Luck in 2018 and emerged as a strong blocker.  
Local kid makes good: Defensive end Clelin Ferrell from national champion Clemson University is likely to hear his name called midway into the NFL's first round.
Ferrell of Richmond starred at Benedictine College Preparatory School before signing with Clemson. 
Leaving so soon? A record 111 underclassmen are entered in the 2019 draft. Most are juniors or redshirt sophomores. To be eligible for the draft, a candidate must be at least three years removed from high school.
Disappearing HBCUs: Fewer and fewer athletes from historically black colleges and universities are selected in the draft, but there are exceptions.
Hopefuls this go-round include offensive linemen Tytus Howard from Alabama State University, Josh Miles from Morgan State University and defensive end Darryl Johnson from North Carolina A&T State University.
Also on the "maybe" list is Bowie State University quarterback Amir Hall, who passed for 10,198 yards and 94 touchdowns for the Bulldogs.
The last quarterback from an HBCU to be drafted was Alabama State's Tarvaris Jackson in 2006. He was picked by the Minnesota Vikings with the 64th overall choice.
D.C. impact? The Washington NFL team is in need of quarterback help and the Arizona Cardinals might have one available in Josh Rosen, the Cardinal's top pick a year ago and 10th overall. Rosen was Arizona's starter in 2018 with so-so results.
Washington's quarterback situation was thrown into a tizzy last season when Alex Smith suffered a serious leg injury in the 11th week against the Houston Texans. Don't be surprised if Washington seeks Rosen in exchange for a draft pick or picks and/or players.
Other college quarterbacks figuring to go in Round One of the draft are the University of Missouri's Drew Lock, Dwayne Haskins of Ohio State University and Duke University's Daniel Jones.      
Quarterbacks rule: Since 1998, when Peyton Manning was tapped first overall in the NFL draft by the Indianapolis Colts, the top pick has been a quarterback 15 times.
The last running back drafted as the first pick was Penn State University's Ki-Jana Carter by the Cincinnati Bengals in 1995. Before Carter, the last ball carrier chosen first was Auburn University's Bo Jackson by the Tampa Bay Buccaneers in 1986.