Colette McEachin wins Dem nomination for city commonwealth's attorney
George Copeland | 8/16/2019, 6 a.m.
Colette W. McEachin secured the Democratic nomination for Richmond commonwealth's attorney in last week's firehouse primary, defeating Alexander L. "Alex" Taylor Jr. by winning more than 83 percent of the votes cast, according to the Richmond City Democratic Committee.
In the balloting, which was conducted by the committee at set times and locations on two days, Mrs. McEachin won 2,115 votes, while Mr. Taylor received 429 votes.
"I am humbled by this opportunity and thankful to the great, great people of the City of Richmond who today have made history," Mrs. McEachin wrote in a Facebook message following the announcement of the results on Saturday.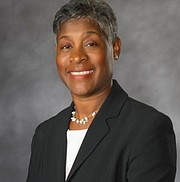 With no word of a Republican Party or independent challenger for the Nov. 5 general election ahead of the Friday filing deadline, Mrs. McEachin is poised to retain the position she has held since the previous commonwealth's attorney, Michael N. Herring, stepped down on July 1 to enter private legal practice after 13 years in the elected post.
Mrs. McEachin, a former deputy commonwealth's attorney and the wife of 4th District Congressman A. Donald McEachin, has worked in the Richmond Commonwealth's Attorney's Office for more than 20 years.
Mr. Taylor, who entered private practice in 2011 after spending nearly eight years as a senior assistant commonwealth's attorney in Richmond, did not respond to requests for comment on the primary results.
Voter turnout was expected to be minimal because of the accelerated nature of the primary. Fewer than 2 percent of the city's 150,000 registered voters turned out for the firehouse primary, which was held 6 to 7:30 p.m. Aug. 8 and from 10:30 a.m. to 1:30 p.m. Aug. 10 at the Main Branch of the Richmond Public Library in Downtown and the Southside Community Services Center in South Side.
Jamie Nolan, chair of the Richmond City Democratic Committee, congratulated Mrs. McEachin on her victory in a statement and commended her "commitment to reform our criminal justice system and pursue alternatives to incarceration."
"Working together with community leaders, I know we can create a more equitable justice system for all Richmonders," Ms. Nolan said.
Mrs. McEachin presented herself as the "innovator" the city needs, tying her campaign to her long career with the com- monwealth's attorney's office — from being hired as one of the first African-American female employees to more recently serving as deputy commonwealth's attorney. She said she plans to continue Mr. Herring's efforts in ending cash bail requirements for pretrial release, while establishing a diversion program for first-time arrestees charged with non-violent offenses.