Tournament baseball field in the city?
The Metropolitan Junior Baseball League's recent Inner City Classic held in Metro Richmond was a smashing success. It had tremendous talent, exciting games and tip-top organization.
But here's the problem: The showcase tournament wasn't held anywhere near the hustle and bustle of Richmond's inner city.
Because of the absence of suitable fields in Richmond, the annual event was conducted in Henrico County, with grand finales at RF&P Park in Glen Allen.
RF&P Park is a first-rate facility, but it's 13.8 miles northwest of the Capitol, deep into Richmond's leafy suburbs and well beyond the bus line.
Other games were played at Klehr Field in Northern Henrico and Douglas Freeman, Deep Run and Hermitage high schools in Western Henrico.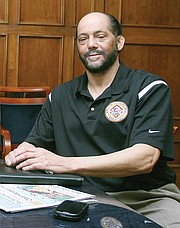 "We would have liked to have had (the tournament) more in the city. But there were no fields," said William Forrester Jr., executive director of the MJBL.
That said, what the Inner City Classic and other similar events cry for is a Downtown ball yard in an easy-to-reach location.
An ideal spot would be what is now called Parker Field Annex, located on Arthur Ashe Boulevard across Robin Hood Road from the Arthur Ashe Jr. Athletic Center.
Parker Annex is used sparingly for adult softball.
"That would be the perfect location," Forrester said. "For sure it would stimulate conversation. And if it's not feasible, let the city officials tell us why. We need our own field."
The MJBL's regular season league was held at Klehr Field and J. Sargeant Reynolds Community College's Parham Road campus in Henrico.
Forrester also suggested such a field in the heart of Richmond could become a mecca for the city's high school baseball.
Of Richmond's five comprehensive high schools, only Huguenot High School in South Side is up to par to consider hosting a major event.
To lift Parker Annex to specifications, the home run fence would have to be extended at least 300 feet down the lines and perhaps 350 feet to center.
The outfield fence now is about 285 feet.
There's plenty of room for expansion at Parker Annex, except in dead right — the area now used for Travel Land Park — where construction workers would need to be more creative.
But even with that, how about a signature "Tall Wall" similar to Boston's iconic Fenway Park Green Monster?
An artificial turf surface with adjustable bases, like the one used for Virginia Commonwealth University field hockey and intramurals, could make Parker Annex suitable for all ages of baseball, plus adult softball.
A grass infield, with 90-foot bases, wouldn't work for younger age groups or softball that plays bases about 60 to 65 feet.
"That would be great for tourism," Forrester said. "You'd have people riding by all day long, seeing what's going on. RF&P, by comparison, is secluded."
There's ample parking across Robin Hood Road behind the Ashe Center.
Temporary mesh fences could be erected for younger age groups.
Also there is room for more grandstands and restrooms and a concession stand down the third base line.
Sponsoring billboards could adorn the outfield fence, giving it more of a Richmond look.
"I've been to many Inner City Classics," Forrester said, "and the only one I can think of that had the fields in the city was Greensboro," North Carolina.
The name, Parker Field Annex, stems from old Parker Field, which housed Richmond's pro baseball teams from 1954 until 1984, before being replaced by The Diamond.
Earlier this year, The Boulevard was renamed Arthur Ashe Boulevard.
So in that prime location, what could a new youth baseball/ adult softball field be called?
How does Arthur Ashe Stadium sound?