Washington NFL training camp ends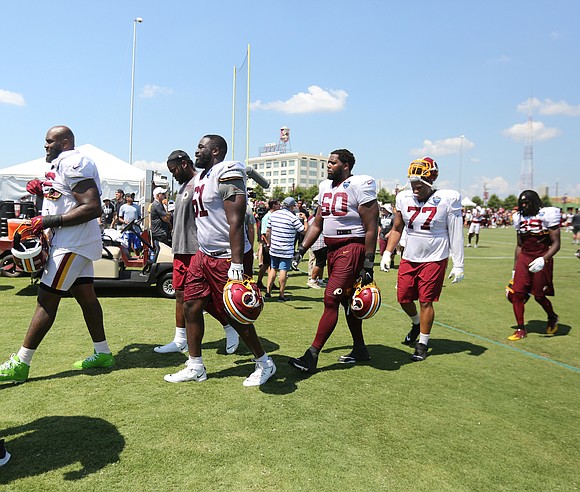 Seven down and one to go.
The Washington NFL team concluded its preseason workouts last Sunday at the Bon Secours Training Center in Richmond.
This marked the seventh year in the pro team's eight-year deal to train in Richmond. Washington will return to the Richmond camp in 2020, but anything after that remains a mystery.
Neither Bruce Allen, the Washington team's general manager, nor Richmond Mayor Levar M. Stoney has made a definitive statement regarding the future.
Both sides have until June 2020 to reach a final decision.
As part of the original deal, Richmond built the Bon Secours facility specifically for the team at a cost of some $10 million. The city also pays the team $500,000 per year in the form of cash or services.
While Washington's deal with Rich- mond remains iffy, so does the team's commitment to play at FedEx Field in Prince George's County, Md., the team's home since 1997. Its contract for the stadium runs through 2027. The team is dangling four other options:
• Return to RFK Stadium, its home from 1961 to 1996.
• A site in Oxon Hill Farm/Oxon Cove Park in Prince George's County.
• A new site near Ronald Reagan Washington National Airport in Arlington.
• A new site near Dulles Airport in Virginia's Loudoun County.
What is known is this:
Since training in Richmond, the Washington team's regular season record is 38-57-1 and 0-1 in the playoffs.
Washington's next exhibition game is Thursday, Aug. 15, against the Cincinnati Bengals at FedEx Field.
The team opens its regular season Sunday, Sept. 8, at Philadelphia against the Eagles.