Acclaimed writer Paule Marshall, professor emeritus at VCU, dies at 90
Free Press wire, staff report | 8/23/2019, 6 a.m.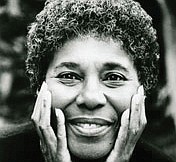 She taught at VCU until 1994, when she joined the faculty of New York University holding the Helen Gould Sheppard Chair of Literature and Culture.
She won the John Dos Passos Prize for Literature in 1989 and, in 2009, she won the Anisfield-Wolf Book Award for lifetime achievement in writing books "that have made important contributions to our understanding of racism and human diversity."
"We are deeply saddened by the loss of a wonderful colleague and a wonderful writer," said Dr. Catherine Ingrassia, professor and chair of the VCU English Department. She said Ms. Marshall was an iconic writer who had an important impact on the university and American literature.
"Her presence was felt within the department long after her time here," Dr. Ingrassia said.
Born April 9, 1929, Valenza Pauline Burke was an immersive reader who loved old British novels from "Tom Jones" to "Great Expectations." But she longed for books that included people more like herself, and so made an instant and deeper connection to the poetry in dialect of Paul Laurence Dunbar and later to writings by Ms. Hurston and Mr. Hughes, among others.
All along, she had been listening to her mother and various neighborhood women gather in the kitchen and expound in "free-wheeling, wide-ranging" style, voices she fictionalized in "Brown Girl, Brownstones" and other works.
"They were women in whom the need for self-expression was strong, and since language was the only vehicle readily available to them, they made of it an art form that — in keeping with the African tradition in which art and life are one — was an integral part of their lives," she wrote in "The Poets of the Kitchen," a 1983 essay.
Ms. Marshall graduated with Phi Beta Kappa honors from Brooklyn College. During much of the 1950s, she worked as a magazine researcher, traveling to Brazil and the West Indies, among other places. Since childhood she had been "harboring the dangerous thought" of becoming a writer, and in her spare time completed "Brown Girl, Brownstones," published by Random House in 1959 after editor Hiram Haydn suggested she trim her 600-page "sumo-sized manuscript" to the "slender, impressive" novel buried within.
In her early 20s, she married Kenneth Marshall. They divorced when their son Evan was still young. She later married Nourry Menard, a Haitian businessman.