Surviving the journey: Thousands of people gather in a weekend of reflection and healing in Hampton to remember, honor the first Africans brought as captives to English North America 400 years ago
Brian Palmer | 8/30/2019, 6 a.m.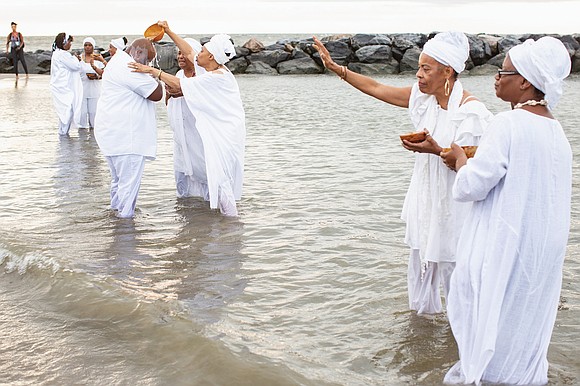 Some who participated in Saturday's beach ritual beamed, while others stood silent and reflective.
Wendell Shannon of Baltimore sighed and paused when asked about the ceremony's significance.
"It connects me to the painful experience of the trans-Atlantic slave trade — the bowels of the ships, the jumping off the ships and suicides. Now it's time for liberation and reconnection to our mother Africa," Mr. Shannon said.
Jermaine Nelson, a young man also from Maryland, said he was looking for his roots and for a more profound connection to Africa. As part of the ceremony that accompanied the anointing, he received a new name, "Guiawang," drawn from the Tikar people of Cameroon.
"I'm looking for home," he said.
Organizer Ada Adagho Brown of the African heritage group Roots to Glory said afterward that it was important the morning was planned and executed by Africans and African-Americans. So much of the schedule didn't appear to be geared to either group, ostensibly the focus of the weekend.
"I didn't feel us in here," Ms. Brown said. "I actually felt that there were two different events. One for them"— white people — "what they want the world to know, what they want the world to see. And one for us."
The weekend was organized under the flag "American Evolution" by state and federal commemoration commissions, the Fort Monroe Authority, the National Park Service, the City of Hampton and Project 1619, a black-led nonprofit.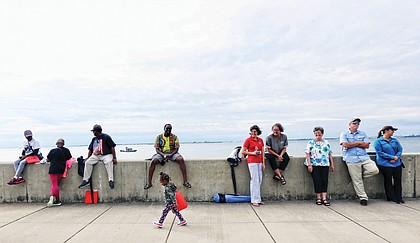 But at times, it seemed politicians — many of whom were white people — sought to hijack the big events attended by several thousand people that also featured African drumming and dancing, spoken word and other presentations by youths, a long line of educational exhibits and vendors along the Fort Monroe waterfront and a ceremony where flower petals were dropped into the Chesapeake Bay in remembrance of the first Africans and other ancestors.
Saturday's main event, the "2019 African Landing Commemorative Ceremony," featured 17 speakers, while Sunday's ceremony, "Healing Day," featured 11 speakers, including Gov. Ralph S. Northam, who used the podium on both days to continue his post-blackface rehabilitation.
Gov. Northam announced Saturday that he has set up a commission to study how the African-American experience is taught in Virginia and a separate commission to examine racial inequity in law. He also announced that sculptor-painter Brian R. Owens, an award-winning artist based in Florida, has been selected after a national search to lead the $500,000 First African Landing public art project at Fort Monroe. Mr. Owens is African-American.
In his address on Saturday, U.S. Sen. Tim Kaine spoke about Oliver W. Hill Sr., the pioneering civil rights attorney from Richmond, who was pivotal in the lawsuit that led to the U.S. Supreme Court's landmark 1954 decision in Brown v. Board of Education outlawing the "separate but equal" doctrine in public education.
Sen. Kaine, an attorney, said before his speech that he was well aware that slavery in the "New World" didn't begin in 1619. It started long before in Spanish-occupied North America. But what the English gave the young colony of Virginia, he said, was its legal system — a framework that white male colonists tailored to construct the brutal system of American chattel slavery.