400th Commemoration gives special designation to 37 state historical highway markers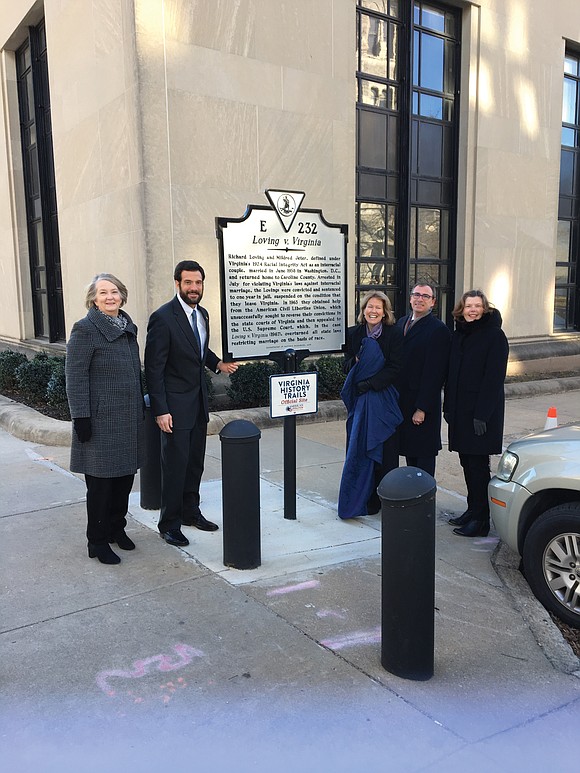 Historical highway markers celebrating African-American history in Richmond and across the state are at the center of a new initiative aimed at encouraging people to learn about the people and places that shaped the state.
The initiative, called Virginia History Trails, is being developed and promoted as the state prepares to mark the 400th anniversary of the arrival of the first Africans in Virginia in 1619.
State officials launched the initiative on Jan. 21, the Dr. Martin Luther King Jr. Holiday, by unveiling the Virginia History Trails designation at a State Capitol history marker to Loving v. Virginia, the 1967 landmark U.S. Supreme Court case that cleared the way for legal interracial marriages and laid the groundwork for gay marriage.
It is one of 37 markers across the state that will bear the special designation.
Among Richmond's African-American people and places receiving special Virginia History Trail designation are John Mitchell Jr., the crusading editor of the Richmond Planet who also was a prominent banker and City Council member, and the Jackson Ward section of Downtown that was long a political, business and social center.
Also earning the designation are the Friends Association for Children, a Jackson Ward-based day care that began in 1871 as an orphanage for black children, and the Adams-Van Lew House in Church Hill that was a base for a Union spy ring during the Civil War that relied on African-Americans providing information gained from their work as servants.
In all, 17 African-American state historical markers have been given the new designation, including the former Richmond site of the Freedman's Bureau and bank; the Buckingham County home of Dr. Carter G. Woodson, known as the father of black history who launched "Negro History Week" in February 1926; and a Prince Edward County community called Israel Hill that newly freed slaves founded in 1810.
The list also includes the Charles City County birthplace of Lott Carey, a missionary to Liberia; the Louisa County birthplace of John Mercer Langston, a Virginia congressman and the founding president of Virginia State University; and Virginia University of Lynchburg, a seminary in Lynchburg that was a training ground for African-American ministers.
The history trails designation also gives recognition to women and the first universities in Virginia to offer females a college education, and to Native Americans, including Opechancanough, leader of the failed 1622 and 1644 wars to oust the English from Virginia.
Details: Yuri Milligan, (757) 634-1079 or www.americanevolution2019.com/engage/va-history-trails/