Mayor Stoney highlights new eviction prevention program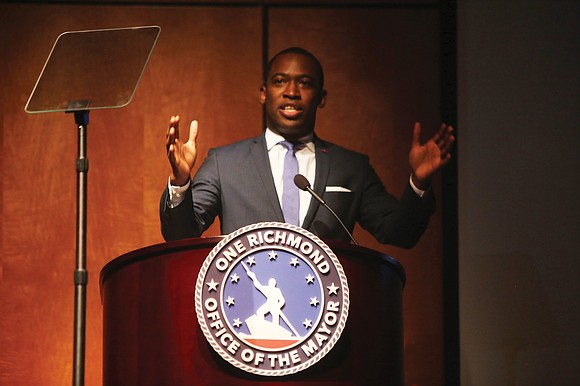 Under the plan, HOME would conduct financial literacy classes that would be mandatory for participating tenants, while Legal Aid is to recruit and train pro bono attorneys to serve as the mediators. A fund also is to be created to accept private donations and possibly a city contribution to provide one-time financial help.
"Through this program, our goal is to cut Richmond's eviction numbers by hundreds of cases a year," he said. He praised the proposal as another example of "how collaboration and partnership with the private, public and nonprofit sectors helps our city thrive."
According to HOME, the program would be designed to serve about 500 tenants a year, still a small fraction of the estimated 6,500 evictions that take place in the city annually.
Richmond was embarrassingly listed as the No. 2 city in the country for evictions, according to a report last year by Princeton University's Eviction Lab, which collected the data on evictions from courts from which it was available. According to the data, nearly one in three Richmond tenants receives an eviction notice each year, with about 40,000 people — one of six residents — being involved in the almost 18,000 eviction lawsuits filed annually in city courts.
Ultimately, nearly two of three of the cases, about 11,500, are settled without eviction, but the Princeton data indicated the remainder result in tenants losing their residence.
"This is what it means to be inclusive," the mayor said. "This is what makes us more competitive. And that's what building One Richmond is all about — investing in our people, sharing in our prosperity … and creating a place where people want to live, work and raise a family.
"Richmonders, you march, you volunteer, you organize, you celebrate, you create and you inspire," he continued. "Our city is more than ready to move on from the past.
"We all have a responsibility to create opportunity and build a supportive community," he said. "We have a responsibility to make Richmond the most inclusive city so we can be the most competitive city we can be."