What next?
Virginians shaken as the top 3 officials are embroiled in controversy
2/8/2019, 6 a.m.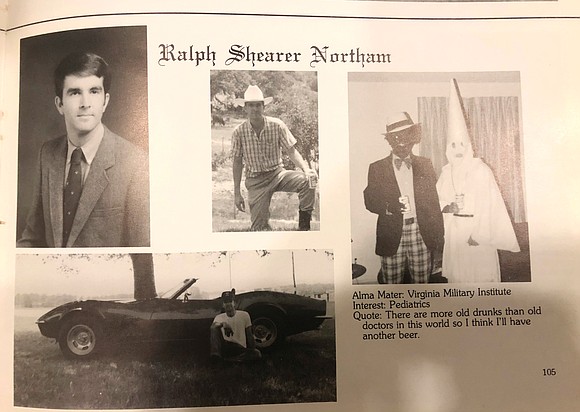 In the suddenly topsy-turvy world of Virginia politics, one fact is certain: Ralph S. Northam is still Virginia's governor.
He also has no immediate plans to resign, despite the uproar and the torrent of calls for him to quit the office some believe he is no longer fit to hold.

The sudden reversal of fortune began when Big League Politics, a conservative, Republican-leaning news and opinion blog, posted on Friday a 35-year-old yearbook photo that appears under the governor's name showing two people, one in blackface and the other in a Ku Klux Klan robe and hood.
The blog indicated that it was tipped off to the forgotten photo published in the 1984 edition of the Eastern Virginia Medical School yearbook by a former classmate upset with Gov. Northam's stance on abortion.
Struck by an avalanche of criticism, the governor initially issued an apology on Friday.
"I am deeply sorry for the decision I made to appear as I did in this photo and for the hurt that decision caused then and now. This behavior is not in keeping with who I am today and the values I have fought for throughout my career in the military, in medicine and in public service. But I want to be clear, I understand how this decision shakes Virginians' faith in that commitment," he stated.
He pledged to do everything he could to restore the public's trust in him.
But at a Saturday news conference, Gov. Northam recanted the apology.
Instead, the 59-year-old genial pediatric neurosurgeon with a reedy voice urged people to trust his word that he was not one of the two people in the photo, a position that began gaining support this week as published reports began surfacing in which former classmates agreed that other students were in the photo.
Gov. Northam, who also was criticized for dressing up as a plantation owner at Halloween, said at the news conference that he had never seen the photo because he finished medical school and started a residency program with the Army Medical Corps in San Antonio, Texas, and did not purchase a copy.

The governor also said that while he blackened his cheeks with shoe polish later that year in dressing up like his favorite entertainer, Michael Jackson, to compete in and win a dance contest in San Antonio, he said he was certain the yearbook photo was not his and that he was not one of the two people pictured.
As the governor fought to clear his name, he gained unexpected relief from the controversy when Lt. Gov. Justin E. Fairfax and Attorney General Mark R. Herring both came under their own clouds.
Late Sunday, Lt. Gov. Fairfax, 39, suddenly became embroiled in an equally explosive controversy regarding a sexual encounter at the 2004 Democratic National Convention in Boston with Dr. Vanessa Tyson, now a California university professor. Dr. Tyson now publicly claims Lt. Gov. Fairfax, forced her to perform oral sex after they went to his hotel room.