What next?
Virginians shaken as the top 3 officials are embroiled in controversy
2/8/2019, 6 a.m.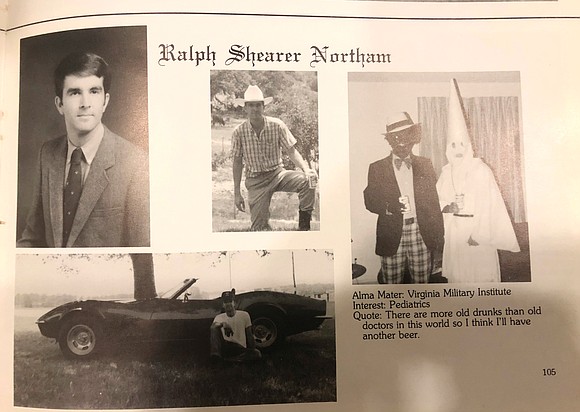 Lt. Gov. Fairfax, a single Columbia University law student at the time, was working on a political campaign.
By Tuesday, the lieutenant governor had displaced Gov. Northam in the headlines as he sought to defend himself. Lt. Gov. Fairfax insisted the encounter with Dr. Tyson was consensual after Big League Politics also spread the information based on an email the blog said was provided by a Richmond friend of Dr. Tyson, Adria Scharf, executive director of the Richmond Peace Education Center and wife of Dr. Thad Williamson, a University of Richmond professor who has been a top adviser to a potential gubernatorial rival of Lt. Gov. Fairfax, Mayor Levar M. Stoney.
Then on Wednesday, Mr. Herring, 57, who had urged the governor to resign in favor of Lt. Gov. Fairfax, issued an unexpected admission about his own blackface episode.
Mr. Herring said in 1980 when he was a 19-year-old college student, he and friends "dressed up and put on wigs and brown makeup" and went to a party portraying "rappers they listened to at the time, like Kurtis Blow."
Mr. Herring, who immediately resigned as co-chair of the Democratic Attorney Generals Association, called his actions a product of "our ignorance and glib attitudes" and a lack of "appreciation for the experiences and perspectives of others."
He said in the years since, the memory has caused him "deep regret and shame," though he added that the past conduct "is in no way reflective of the man I have become in the nearly 40 years since."
The upheaval has come amid a fast-moving General Assembly session when Gov. Northam is a key player in shaping legislation and Lt. Gov. Fairfax presides over the state Senate.
Amid the new revelations, Gov. Northam was bolstered by Republican House Speaker Kirk Cox's public statement Monday that the yearbook photo could not be considered an impeachable offense and the fact that the governor's aides and members of his cabinet have stuck with him rather than resigning. He is soldiering on.
On Tuesday, for example, Gov. Northam quietly signed legislation providing a $750 million package of incentives for Amazon, which plans to open part of its East Coast headquarters in Northern Virginia.
For those who denounced the governor in the wake of the photo — particularly a wide swatch of elected Democrats near and far — it was simpler when they could take an unforgiving stance solely involving Gov. Northam.
Take the 21-member Virginia Legislative Black Caucus, which has urged the governor to resign and end the turmoil.
"We amplify our call for the governor to resign," the Caucus stated Saturday after listening to Gov. Northam's press conference. "He has irrevocably lost the faith and trust of the people. Changing his story now casts further doubt on his ability to gain that trust."
But the Caucus is among many looking for a fallback position with the new revelations involving the two other top Democratic leaders, notably Lt. Gov. Fairfax, who is first in line to succeed to the office if Gov. Northam resigns.