City to get new children's hospital
Construction is set to start in a few months on a $350 million, 92-bed hospital for children on the medical campus of Virginia Commonwealth University.
The new hospital is expected to take more than three years to complete.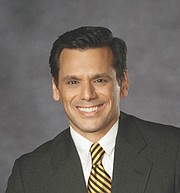 VCU President Michael Rao announced the new development Feb. 8 in providing full details on the size and scope of a project that has been envisioned for more than 15 years, most notably since VCU took over the Brook Road-based Children's Hospital of Richmond in 2010.
The Free Press reported in its Jan. 24-26 edition that planning for the hospital was underway, reviving the project nearly four years after VCU and the Bon Secours hospital group dropped a joint effort to build a new hospital possibly near The Diamond.
However, in a major coup for Downtown, the new hospital will go up on East Marshall Street between 10th and 11th streets, Dr. Rao disclosed, and will stand beside the $200 million, 15-story outpatient children's treatment center that VCU opened in that block in 2016. The outpatient center is next door to City Hall.
Construction is to begin after an outdated and vacant Children's Pavilion building is cleared from the site, Dr. Rao added.
Officials are projecting that it will take until the fall of 2022 to complete the new structure.
Dr. Rao described the new hospital as finishing the current Children's Pavilion and "creating a comprehensive, integrated facility exclusively for children's care."
The new facility will begin with 86 beds, including replacements for 63 beds VCU now operates on the medical campus. VCU has been licensed for 86 pediatric beds, but always had fewer. An additional six beds will be provided for observation of patients.
The new hospital would have room to expand to 125 beds.
When done, the new pediatric hospital is to offer 86 private rooms for patients, along with new operating rooms, imaging capacity, emergency service and family amenities.
Dr. Rao stated that the project is part of VCU's strategic commitment "to be a national leader in children's health and to have the hospital ranked in the Top 20 nationally by 2022."
Dr. Marsha Rappley, chief executive officer of VCU Health System and senior vice president for health sciences, stated that a comprehensive Children's Pavilion would give young patients "a focus of hope."
Richmond Mayor Levar M. Stoney is among those hailing the development that he said will offer the prospect for children to receive "world-class health care" regardless of their ZIP code or family income.
He noted that the new hospital would boost the city's economy while improving "the lives and health outcomes for our children."

"As a cancer survivor and beneficiary of life-saving care and research at VCU, I am especially pleased to welcome VCU's continued investment in children's care," said Richmond Delegate Delores L. McQuinn.
Delegate Jeff M. Bourne, and state Sen. Jennifer L. McClellan, whose districts include the VCU medical campus, also expressed support.
"The community has long awaited a hospital exclusively dedicated to the care of children," said Dr. Keith Derco, retired founder of Associates in Pediatrics and the community liaison at Children's Hospital of Richmond at VCU, or CHoR.
The new hospital also has the backing of the Children's Hospital Foundation, which VCU reports has committed more than $90.7 million to recruiting world-class specialists, establishing multiple specialty programs and increasing pediatric research.
Kim Hassmer, a member of the CHoR Family Advisory Network, stated that she and other parents are excited about the new hospital and what it will mean to their families. 
"It's just such an overwhelming sense of we're getting there. To be able to have all of those resources accessible in one place is going to make life as a mom of a complex 'kiddo' 10 times easier," she said.