Panthers pounce all over Trojans
Fred Jeter | 2/15/2019, 6:01 a.m.
Befitting his No. 22 jersey, "Double Deuce" is his nickname but "double-double" has become his battle cry.
Since the VSU loss, Jenkins has churned out four double-doubles – 25 points and 15 rebounds against Bowie State, 24 points and 12 boards against Lincoln and 15 points and 12 rebounds against Winston-Salem, setting the stage for his 23 points and 14 rebounds against VSU.
A year ago, VUU turned a fairly ordinary season into one to remember with a late flurry of victories, featuring four in four nights at the CIAA tourney in Charlotte, N.C.
The Panthers, with ample talent and fresh momentum, may be headed in the same direction this go-round. At least that's the plan, according to "Double Deuce."
VUU women's team tops VSU 67-42
If Virginia Union University fans didn't know Bria McKinney before, they do now.
The 5-foot-8 senior from Houston was an unexpected hero off the bench last Saturday in the Lady Panthers' 67-42 dismantling of visiting Virginia State.
It's doubtful the Trojans' scouting report placed much emphasis on McKinney; she was previously averaging just one point per game and was 1-for-21 on 3-pointers.
Against VUU's most bitter rival, McKinney evolved from the shadows to the spotlight. Helping her team rally from an early seven-point deficit, she hit three of six from beyond the arc and finished with a career high 13 points.
For good measure, the Texan added three steals as VUU improved to 21-1 overall and 12-1 in the CIAA.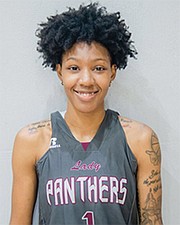 "I came out hoping for a breakthrough, and my teammates fired me up," McKinney said. "I knew they were expecting more from me."
VUU Coach AnnMarie Gilbert praised McKinney and her entire bench.
"We're very deep ... we've got 17 weapons and we can't use them all every game," Coach Gilbert said.
McKinney transferred to VUU last year from Louisburg, N.C., College. Coach Gilbert "discovered" McKinney playing against the Panthers in a preseason exhibition.
Another backup making noise against VSU was 5-foot-11 Destiny Gardner with six points and six rebounds.
The native Mississippian's power play inside helped make up for the loss of Ifunanya Okoye, who left the game with an undisclosed injury.
While McKinney and Gardner's production may not have been anticipated, VUU got its usual show-stopping output from Shareka McNeill. Few athletes can fire up a crowd and break the hearts of the opposition like McNeill.
The exciting sophomore guard hit five 3-pointers, scored 22 points and is well on her way to being CIAA Player of the Year. Previous CIAA Players of Year under Coach Gilbert were Kiana Johnson, Lady Walker and Alexis Johnson.
Few teams around the country are hotter. VUU has won 13 straight and hasn't lost since a 62-59 defeat at Claflin on Dec. 6.
The Lady Panthers' fans looking to make travel plans might jot down these dates:
Feb. 25-March 2: CIAA tournament, Charlotte, N.C.
March 15-19: Division II Atlantic Region, TBA.
Also ...
March 26-29: Elite Eight: Columbus, Ohio.
No mountain seems to steep for this group of talented women. VUU is a combined 105-12 in four seasons  under Coach Gilbert, advancing to the NCAAs each season, including the championship game in 2017.