Personality: Kenneth M. Dye
Spotlight on board chairman of GRASP Inc.
2/15/2019, 6 a.m.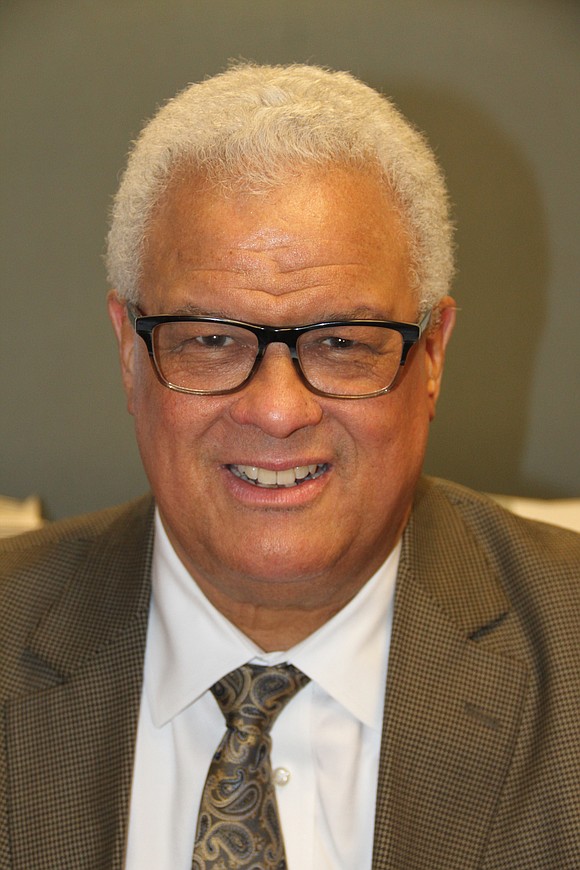 For many students from low-income families, a college education is out of reach.
GRASP, the Richmond-based Great Aspirations Scholarship Program Inc., may be the answer.
Kenneth M. Dye, chairman of GRASP's board of directors, sees the organization as a vehicle making futures possible for students who may not imagine they would have the opportunity for education after high school.
The nonprofit was founded in 1983 by former state Sen. Walter Stosch and Dr. Ray Gargiulo, a career educator, to fulfill the need for assisting and advising students in developing an educational plan regardless of the students' financial or socieconomic circumstances.
At no charge to students, GRASP advisers work in 80 high schools in 36 school systems from Metro Richmond to the Blue Ridge and Southside Virginia. In addition to inspiring students to believe that higher education is for them, GRASP helps with the complex financial aid application process and also awards and administers scholarships.
A new emphasis is GRASP's Community College Pathway Scholarship in which selected applicants receive $1,000 scholarships for their first year of community college studies. The scholarship may be renewed for a second year. Students may either complete a career certificate program at the community college or enter with the intention of transferring to a four-year college in Virginia through the guaranteed admission program.
GRASP also has a summer texting program that provides reminders to new high school graduates about the tasks they need to complete before entering college.
"We can't let them fall off the cliff and do nothing in preparation to enter college," Mr. Dye says.
The program also offers help to make sure students stay in college, including problem-solving services.
Mr. Dye, who became involved with GRASP in 2013, says, "My father told me the biggest poverty is poverty of knowledge. It is worse than the dollar thing. If you don't understand certain opportunities and options are possible, you will never benefit from them.
"Unfortunately, there are a great number of parents that did not go to college or graduate high school and their families don't expect their children will," he continues. "In some cases, their children don't expect they will graduate either."
Last fall, GRASP expanded into school systems on the Northern Neck. Mr. Dye says the plan is to expand to 100 schools in the next three years, which means three or four more school districts.
"We believe by educating students and families about the financial aid process for a two- year community college or a four-year college, and by providing hands-on help to follow through with the required applications, is a great step in the right direction," he says.
"We are really trying to change lives and affect poverty, as well as provide opportunity through education with our Last Dollar and Community College Pathways scholarships for high school students and College Success scholarships for students in the College Success Program.
"We have found out once a student is in high school or about to graduate that it could be too late for them to get involved in our program," Mr. Dye says. "It is hard to turn that academic ship around and get the student to move in a different direction."
Last fall, GRASP started a pilot program at Brookland Middle School in Henrico County, where advisers are helping students and their parents start thinking about higher education sooner rather than later.

"We know students going to college or receiving a certification from a community college have a greater chance of financial success for themselves and their families and it can have a generational benefit," Mr. Dye says.
GRASP is supported financially by donors, and has an annual gala featuring speakers from academia, a government agency supporting education and an outstanding member of the community.
"We have students to come back and talk about their lives," Mr. Dye says. "It is very moving and makes our board and donors very happy about what they have done to help students reach their goals and improve their lives."
Meet education advocate and this week's Personality, Kenneth M. Dye:
Occupation: Retired director of government and community relations with Comcast.
Date and place of birth: 1955 in Washington, D.C.
Current residence: Henrico County.
Education: Bachelor's degree in communications studies, Oberlin College, 1979.
Family: Wife, Sam, and three grown daughters.
No. 1 community involvement: Chairman of the board of directors for Great Aspirations Scholarship Program Inc., or GRASP.
When elected and length of term: In 2018 for an indefinite term.
Why I am excited about this organization: It allows me the opportunity each year to indirectly help thousands of talented youths — the majority of whom are from low-income families — achieve their educational potential. We regularly receive touching feedback from those we help, making me want to redouble my efforts.
GRASP's mission: GRASP will help students and their families develop an educational plan regardless of their financial resources and at no charge to them. GRASP assists them with the financial aid process; awards and administers scholarships; inspires students to believe that secondary and post-secondary education are attainable; and supports them during the completion of their educational goals. GRASP's goal is to ensure that every student has an equal opportunity for continuing education after high school, regardless of financial or social circumstances.
What GRASP means to me: GRASP means hope and, ultimately, dream fulfillment for a great many students across the Commonwealth.
Number of participating school systems involved: The majority of GRASP advisers are in the Richmond area, but we operate in 36 systems, from the Blue Ridge to the Northern Neck, from Central Virginia to Southside.
Our financial support comes from: Individual donors, businesses, foundations and the Commonwealth of Virginia.
How I start the day: Slowly at first, but the news of the day often shocks me awake.
A perfect day for me: As a retiree, I'm no longer an early riser. I devour a few news sources, electronic, digital and print, both local and national; work out at the gym (this is a perfect day, not the usual day); call a few friends (to tell them how to run their lives or businesses); plan and shop for dinner so that it's ready when Sam comes home in the evening (a man's work is never done); a glass of Cote du Rhone; an action or spy thriller on video before baking the perfect cheesecake at midnight. Sleep and repeat. A couple of days a week I add on preparation and meetings with several community organizations, including GRASP.
If I had more time, I would: Get a post-retirement paying job.
Something I love to do that most people would never imagine: I love to cook. I'm actually more of a baker — cookies, bread, cakes, and pies. Inspiration usually strikes about 11 p.m. several nights a week. I probably should monetize this passion by offering my services to one of the many restaurants in town.
Kindergarten taught me: The cliché "sharing is caring."
How I unwind: Travel and sleep.
The person who influenced me the most: My father, Grover C. Dye Sr., who was a community organizer and activist. I saw him nurturing, nudging, cajoling, and sometimes even browbeating the many younger people he worked with in order to encourage their success, both to their benefit and that of the community at large.
Book that influenced me the most: "The Soul of America: The Battle for Our Better Angels" by Jon Meacham.
A quote that I am inspired by: "The arc of the moral universe is long, but it bends toward justice." — Dr. Martin Luther King Jr.
What I'm reading now: I'm working my way through a Christmas gift boxed-set of novels about the character Jack Reacher by the action-adventure novelist Lee Child.
At the top of my "to-do" list is: Complete my tax returns.