Jussie Smollett attack staged?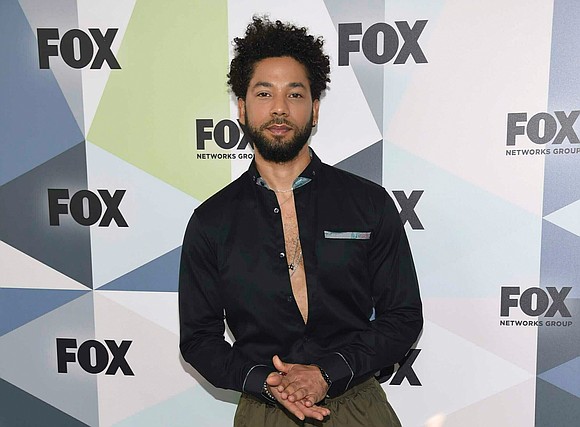 CHICAGO
Questions continue to swirl around "Empire" actor Jussie Smollett this week after reports surfaced Wednesday that Chicago Police classified Mr. Smollett as a suspect in a criminal investigation for allegedly filing a false report. Chicago detectives presented evidence to a grand jury on Wednesday after investigating whether Mr. Smollett paid two brothers to stage an attack on the actor late last month.
According to media reports, Chicago Police picked up the brothers, ages 25 and 27, on Feb. 13 at O'Hare International Airport as they returned from Nigeria. Police described them as "suspects" in the assault, questioned them and searched their apartment.
Then, late Friday evening authorities released the two men without charges, saying they were no longer suspects. Police said they gleaned new information from their interrogation of them.
Detectives are still following up on information the brothers provided while they were in custody, sources said, including reports that they were paid $3,500 by Mr. Smollett to stage the attack. Police would only say last Saturday that the trajectory of the investigation "shifted" after questioning the brothers.
Authorities also said they wanted to speak again to Mr. Smollett, but attorneys for the actor said there were no plans for him to meet with Chicago investigators.
Mr. Smollett reported on Jan. 29 that he was physically attacked by two men who yelled homophobic and racial slurs. He said they also yelled he was in "MAGA Country," an apparent reference to President Trump's "Make America Great Again" campaign slogan.
"Jussie Smollett is angered and devastated by recent reports that the perpetrators are individuals he is familiar with," read a statement from his attorneys. "He has been further victimized by claims attributed to these alleged perpetrators that Jussie played a role in his own attack. Nothing is further from the truth."
The statement said one of the brothers was Mr. Smollett's personal trainer, the first time he has acknowledged knowing either of them. The two also reportedly worked with Mr. Smollett on "Empire."
Mr. Smollett's attorneys said through a spokesperson that they "will keep an active dialogue with Chicago police on his behalf."
Investigators also have been given new details about the rope that Mr. Smollett said was made into a noose and placed around his neck during the alleged attack, sources said.
Detectives searched area retailers to find the source of the rope but the new information allowed them to narrow their search and find where it was sold, according to sources.
Detectives still need to verify their stories and the investigation was continuing.