Remove or keep a statue? South Africa also debates painful legacy
By Christopher Torchia/Associated Press | 1/11/2019, 6 a.m.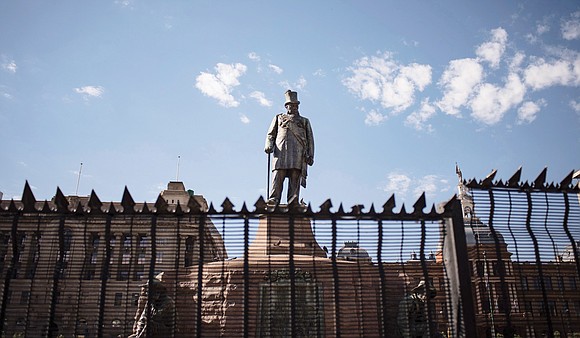 In its last annual report, South Africa's state heritage agency said it was focusing efforts on sites relevant to previously marginalized people, including the wreck off Cape Town of a Portuguese ship that was carrying slaves when it sank in bad weather in 1794. Many of the more than 400 Africans on board died.
Some of South Africa's more painful reminders of racial repression have been removed. In 1997, John Vorster Square, where apartheid-era police abused and tortured suspects, was renamed Johannesburg Central Police Station and a bust of Mr. Vorster, a former white leader, was removed.
South Africa's biggest wildlife park, though, is named after Mr. Kruger and his statue survived a recent refurbishment of Church Square. At an October ceremony, Solly Msimanga, mayor of the Tshwane metropolitan area that includes Pretoria, said authorities might add sculptures commemorating the fight against white domination.
He noted that there are statues of both Mr. Mandela and Louis Botha, a white South African leader in the early 20th century, at Pretoria's hilltop Union Buildings, home to the South African president's offices.

Dec. 16 marked the fifth anniversary of the 2013 unveiling of a statue of Mr. Mandela at the Union Buildings, an occasion ending 10 days of mourning after his death. It replaced a much smaller statue of Barry Hertzog, prime minister of the white South African government before World War II.
At the Johannesburg university forum in November, researcher Temba Middelmann said there are sometimes political and commercial factors, as well as an element of "arbitrariness," behind the erection and location of statues. He recalled Indian support for the unveiling of a Johannesburg statue of Mahatma Gandhi, which was vandalized in 2015 after a protest alleging the Indian independence leader had been racist toward Africans.
There is an argument that statues of individuals are "not the way forward in terms of monuments," Mr. Middelmann said. "But they continue to go up."