Gov. Northam speaks at VUU Community Leaders Breakfast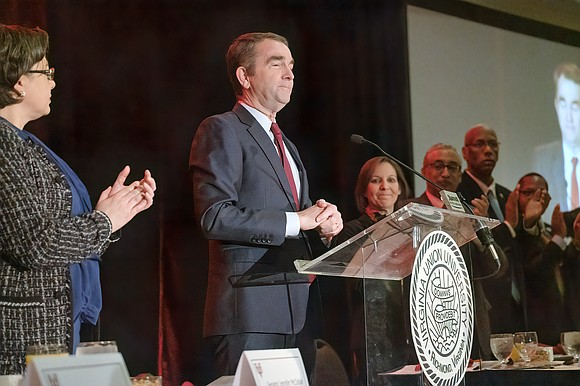 Gov. Ralph S. Northam addressed the 41st Annual Community Leaders Breakfast last Friday honoring the legacy of Dr. Martin Luther King Jr. with a message of valuing Virginia's diversity and the collective responsibility of supporting each other as the state moves forward.
The event, sponsored by Virginia Union University, was held at a Downtown hotel, where more than 700 people gathered, including numerous elected officials, among them Richmond City Council President Cynthia I. Newbille, Richmond School Board member Cheryl Burke and new 7th District Congresswoman Abigail Spanberger.
Richmond Mayor Levar M. Stoney, 4th District Congressman A. Donald McEachin and 3rd District Congressman Robert C. "Bobby" Scott were on the dais and spoke as part of the program.
Also in the audience was the Rev. Tyler C. Millner Sr., pastor of Morning Star Holy Church in Martinsville, who organized the first Community Leaders Breakfast as part of Community Learning Week.
Gov. Northam was introduced by state Sen. Jennifer L. McClellan of Richmond who chairs the state Martin Luther King Commission. He acknowledged Dr. King's 90th birthday on Jan. 15 and reminded the audience of Dr. King's several visits to VUU in the 1950s and 1960s. Dr. King's leadership helped inspire the "Richmond 34," a group of VUU students who were arrested after staging a nonviolent sit-in at the whites-only lunch counter at Thalhimer's department store Downtown in February 1960. The students' actions helped push desegregation efforts in Richmond.
He talked about Virginia's collective history dating back 400 years that cannot be ignored or forgotten. He said as Virginia celebrates the 400th anniversary this year of the first representative body in North America, "we cannot separate the arrival of the first Africans at Point Comfort, which is now Fort Monroe in Hampton. The story of Virginia is one of liberty and enslavement," he said. "We cannot mark one without the other."
The governor noted that Virginia's and America's strength is its diversity, and while many great strides have been made, there is much to be done — in access to health care, education, voting and the judicial system. He said a good place to start is with "reconciliation."
"This is the most important time for leadership in Virginia and America," Gov. Northam continued. "We may have all come on different ships, but we are in the same boat now."
Referring to the bloody and deadly demonstration in August 2017 in Charlottesville by white nationalists and neo-Nazis, Gov. Northam said, "We do not condone hatred and bigotry in Virginia." He said Dr. King spoke about the power of love and, quoting Dr. King, the importance to understand that "our lives begin to end the day we become silent about things that matter."
"Life's most persistent and urgent question is, 'What are we doing for others?' " he said. "As citizens, we all have an obligation to look out for — and help — each other."

At the breakfast, the Rev. Dr. Earl M. Brown, pastor of Fifth Baptist Church in Richmond, was honored with the MLK Lifetime of Service Award for his leadership beyond his congregation; the Richmond section of the National Council of Negro Women was honored with the MLK Civic Engagement Award; and Randy Cooper accepted the MLK Award for Community Engagement on behalf of the Richmond Heritage Federal Credit Union.